Little Burgundy: Jeffrey Campbell Flip-Flops Were $110 | Now $40 & Free Shipping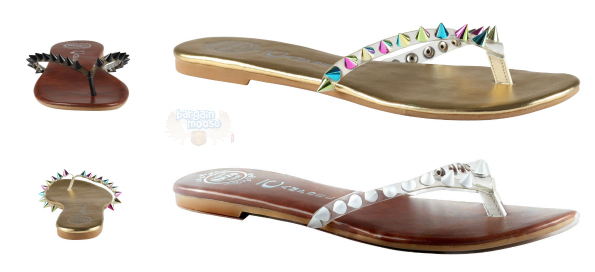 Little Burgundy is currently offering free shipping with no minimum order. Now is a great time to score a deal on summer shoes like these Jeffrey Campbell Flip-Flops that were $110 and are now marked down to $39.98.
these fun little sandals will be this coming summer's best friend. They have a v-strap across the top of your foot to keep the sandals in place. The v-strap features rhinestone detailing for a little bling in your summer. They have a flat sole for easy slip-on and slip off. These are fantastic for running errands, going to the beach, hanging out around the pool, and more. As a synthetic foot bed, there are no worries about getting these sandals a little wet.
The shoes are available in white, midnight black, or multi-metallic colours. Full sizes five through 10 are available in all three colours. You not only receive great shoes at a great price, you also have a great selection of colours and sizes to choose from.
This is a great deal in and of itself. However, I understand my lovely Moosers might be on a tight budget where $40 just cannot spend on a new pair of shoes. The rest of this post is dedicated to you. I found a select of sandals under $15 for the tight budget Moosers - myself included.
First, the Slim Basic Soft Havaianas are on sale from $28 down to $14.98 and free shipping. Choose from orange, silver, white, or gold coloured flip-flops. Sizing is limited, but sizes 9, 10, and 11 are still available among the colours. Havaianas is a well-known sandal brand that almost every beach bunny has owned. They mix comfort with fair prices.
Second, the Hibou T-strap sandals are on sale from $45 down to $14.98 and free shipping. They actually have a leather foot bed that will mold itself to your foot shape over time. Leather foot beds are my favourite (though they are hard to clean). The T-strap will stay on your foot easily with the back strap across the ankle. Colours blue and orange are available with sizes six and eight still in stock.
There are plenty of other great deals that you can combine with free shipping. Usually, Little Burgundy has a free shipping minimum of $75 or else you pay around $5 for shipping. Thus, this is a nice deal from the shoe retailer.
(Expiry: unknown)