Jet Set Travel Large Leather Phone Wristlet Was $98 | Now $58 & Free Shipping @ Michael Kors Canada (EXPIRED)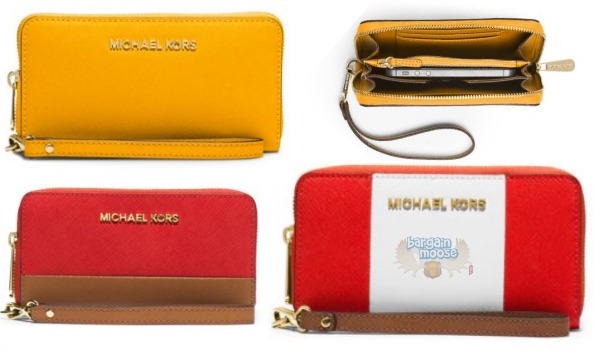 I love the look of a sleek leather designer case. Check out the Jet Set Travel Large Leather phone case. This compact wristlet was $98 but you can grab it now for only $58. Grab that sleek look now in a bright colour that is perfect for your summer vacation.
Stylish and sleek, this leather wristlet is chic. This wristlet is made from soft and supple Saffiano leather. This wristlet will fit your phone plus a few other small important items such as a credit card, some cash, your ID and your lipstick. This wristlet is compact enough you can easily carry it on its own when you need just the essentials, or throw it in your handbag to keep your essentials easily accessible. Make sure you click over to the colour mandarin to see the best deal. The default-featured colour when you click the link is a blue and navy version, but it is was $98 and is now $73.
Michael Kors wristlets are not sold everywhere, but I did manage to find a few other places where you could purchase a similar wristlet. Beyond the Rack has the exact same wristlet in mandarin for $94.99. Over at Shop.ca, I found leather Michael Kors wristlet designed to hold your phone in red for $125.64. Amazon.ca carries a similar leather wristlet in a peanut colour for $135 that is fulfilled by Amazon and qualifies for super saver shipping.
Shipping is now completely free at Michael Kors Canada with no minimum. This is fairly new and exciting that now Michael Kors is shipping directly to Canada free. You will not have to worry about any duties, this product ships from within Canada.
If you like options, you may want to check out the great deal on the Jet Set Travel Large Phone Wristlet for IPhone and Samsung. This wristlet is available in a bright yellow colour called Sun was $98 but is now $58.80. There are some other colour options available, most at full price. The cheery yellow is by far the best deal, but you could also snag the same wristlet in a tan colour called peanut for $73. The Jet Set Travel Colour-Block Leather Phone Case in a mandarin and white colour scheme with a brown luggage accent was $108 but is on sale for $64.80. This large wristlet with a bold colour block pattern that resembles wide stripes is also available in navy or a nude motif. These additional colours were $108 but are on sale for $81.
Grab your favourites now. These wristlets are perfect for everyday use for a look that is stylish and chic. I also love that a wristlet in a larger handbag can help to keep you organized. I need all the help I can get to stay organized, and with this wristlet I can look sleek at the same time!
(Expiry: Unknown)