Hunter Quilted Short Lace-Up Boots Were $215 | Now $100 & Free Shipping @ Browns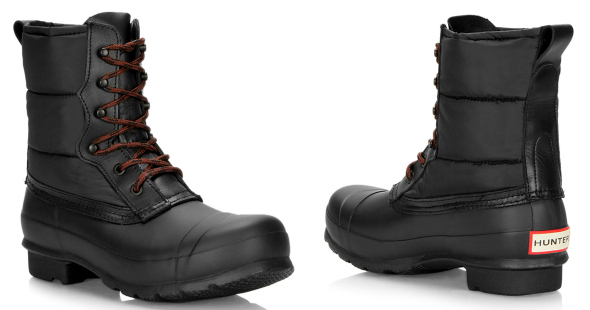 Another hot brand name on sale at Browns! The Hunter Quilted Short Lace-Up boot is currently 53% off. Originally priced at $215, they're now just $99.98. To make the deal even sweeter, you can also use coupon code GETTHEM15 for free shipping, as Avigayil told us about earlier.
I absolutely hate coming across a great sale on an item only to find that there is only one or two sizes or colours remaining in stock but we're in luck this time. Browns is still showing inventory in sizes 5 through 9.
The Hunter brand is synonymous with quality and these cute, versatile boots don't appear to be the exception. Available in black, the upper panel is quilted to keep you warm and made of shower proof nylon to keep you dry. The slim fit leg panel is also nylon and filled with insulated wadding for warmth. The waterproof rubber foot is lined with soft brushed fleece to keep your toes toasty. There is a 1" heel and a calendared sole for traction to help you trudge through the snow or rain.
With their slim fit profile, these Hunter booties would fit under a flared pant leg or look great with leggings or skinny jeans. I like having the option of a shorter-shafted boot for different outfits. It can be difficult to wear tall boots under bootcut jeans! We're in the midst of a vicious snow storm here that seemingly came out of nowhere and I could really use a pair of these to shovel the driveway. The great treads and cozy lining would be perfect for a day such as this. I'll just need to find some thick, warm socks! Or... just not shovel the driveway. It'll melt, right?
I won't be talking myself out of these, though -- not at this price. I was able to find these Hunter Quilted Short Boots on sale elsewhere but no one had them marked down as low as Browns! The Hunter Canada website has them for $150.99; Urban Outfitters (Canada) has them marked down to $179.99, and that doesn't include shipping costs. Needless to say, we need to get them from Browns for $99.98.
Don't forget to enter promo code GETTHEM15 in your shopping bag before checking out to avoid any pesky shipping costs, saving you an additional $5.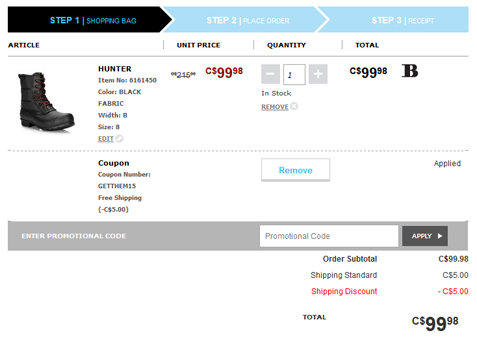 (Expires: Unknown)