HP Canada: 50% Off Bluetooth Mouse - Now $29.99 & Free Shipping (EXPIRED)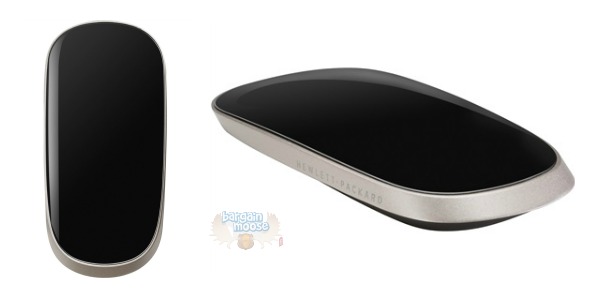 I just cannot resist a good mouse deal. HP Canada has the HP Z8000 Bluetooth Mouse on sale from $59.99 down to $29.99 right now with free shipping.
Okay, so I just posted a mouse deal so you are wondering which of these to buy. Well, these mice really are completely two different units. The Dell TactX mouse is designed for gaming and other things that require heavy use. Thus, it is a corded or 'tethered' mouse and does not rely upon a wireless signal like Bluetooth to communicate with your computer. It also means you are, at all times, physically connected to the computer.
The HP Z8000 Bluetooth Mouse gives you the convenience of portability with no strings attached. This mouse also has a vastly different interface. Enjoy the modern convenience of the smooth innovative capacitive surface on this 18mm thick mouse - only 0.7 inches! The "Innovative capacitive surface provides 4-way touch scrolling and 2-button control" for unparalleled range of motion on a mouse.
Also, enjoy reception up to 33 feet away from your computer. Put on presentations and have full control with your wireless mouse without having to stand right beside your computer the entire time. Walk around, point out interesting features, or run the entire presentation from the back of the room like a disembodied voice.
Now it is time for a little price comparing. I found this same unit at other retails for the following prices:
$59.92 @ Staples Canada
$52.94 @ Tiger Direct Canada
I also found the mouse at Walmart (US) for $59.99 and at Best Buy (US) for $39.99. That was the cheapest I could find it anywhere else.
There are other good sales going on at HP right now as well. I was satisfied with the sale price on this HP Wireless Elite v2 Desktop Keyboard with Mouse - originally $89.99 it is now on sale for $49.99. I have wanted a wireless keyboard for a while now.
You also need to check out these HP Compact 2.0 Speakers for just $9.99, originally $19.99. These cute little speakers will give you better sound quality than your laptop's speakers have and yet are compact enough to fit into most laptop bags. These would make great stocking-stuffers as they are cheap, useful, and great for anyone who loves technology!
(Expiry: unknown)