Home Depot Canada: RYOBI ONE+ 5 In. Random Orbit Sander (18V) only $12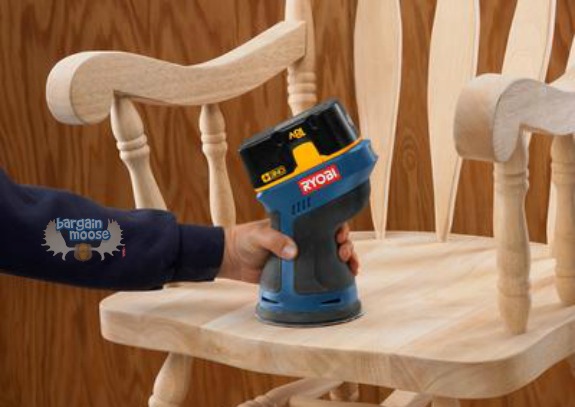 If you or your husband have recently discovered the wonder of the RYOBI ONE+ line of tools then you may want to check out this RYOBI ONE+ 5 In. Random Orbit Sander for only $12!
We recently inherited a RYOBI ONE+ grass trimmer and blower and although we knew about this line of tools we never really considered investing in them.  Mainly because we own a gas powered trimmer and my husband has always leaned towards DeWalt tools.
However, with our recent acquisition we have decided to sell the gas powered trimmer for three reasons: it's overkill for the size of property we have, it's very loud and heavy.  Plus, with a lighter battery operated one I can take over the trim work and frankly I am ok with that.
Although my husband never considered the RYOBI ONE+ line before, he has been doing more and more research on the different tools and accessories they offer, because any Ryobi 18V Tool fits any Ryobi 18V battery and that means less clutter on his work table.
Now my husband may end up using this tool, but this one is really for me. I like to find old furniture and refinish it. I know to some of you that may sound like a huge undertaking and a few years ago I would have agreed. However, I discovered the wonders of chalk paint and it opened up a whole new world for me! Although you don't have to strip or prep the furniture before using chalk paint, I like to distress my projects and this orbit sander could really come in handy with some of the larger pieces.
Ships for FREE! As an added bonus, this item ships for free under Home Depot's Free Parcel Shipping category. This item is available online only so unfortunately you will have to patient for it to arrive.
(Expiry: unknown)