Herschel Supply Co: Up to 50% Off Wallets, Bags, & More + Free Shipping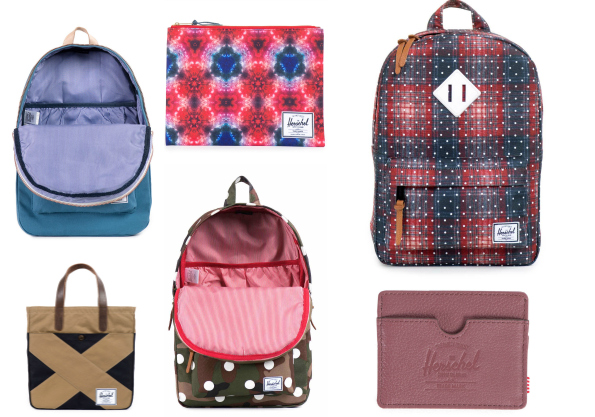 I recently purchased a Herschel Supply Co. bag and now I understand all the hype: this brand is fabulous! Right now they are offering up to 50% off must have accessories such as wallets, tablet sleeves, computer sleeves, backpacks, and more. You will also get free shipping on any order no matter how small. :)
I like 'catch all' bags that can be used for organizing whatever you like. The Network Pouch | XL is a 9.5"(H) x 14"(W) pouch that you can use to carry documents, organize your luggage, store delicate clothing, carry small toys, carry electronics, and more. Essentially, it is a bag that will find endless uses in your home. Originally $29.99, this pouch is now on sale for $15. I might just pick one up as a drawer organizer in my bathroom: something I can stick all of my cosmetics in.
What is Herschel Supply Co. really known for? Their backpacks! I see them positively everywhere on the backs of kids up to adults. This Rust Plaid Polka Dot/White Rubber Heritage Backpack | Kids is a sweet buy for your child. Originally $49.99, this backpack is on sale for $20. It is not only a nice colour combination; it is also very durable so your child should still have it around for next school year.
I wore a backpack nearly every school day until I was done university but I did switch it up with a tote. This Woodland Camo/Polka Dot/White Rubber Heritage Backpack | Mid-Volume is on sale from $54.99 down to $27.50. It is a great new bag for carrying your shiny new laptop to school as it has a 13" laptop pocket. Herschel's backpacks are lightweight and extremely durable. I fit a small grocery shopping expedition entirely into my backpack, thus giving my tired wrists a rest.
I am totally adoring this Charlie Wallet | Leather and Harris Tweed/Black Polka Dot Charlie Wallet for a minimalist approach. Originally $29.99, these two colours alone are now $15 each. I want to buy one and stick it in my evening clutch.
Do you need a larger wallet? No problem, just pick up the Gordon Wallet | Leather on sale from $49.99 down to $25. It has enough slots to handle your main cards, a viewing window for flashing your ID, and a billfold.
(Expiry: Unknown)