Eyes on Walls Canada: Free Shipping No Minimum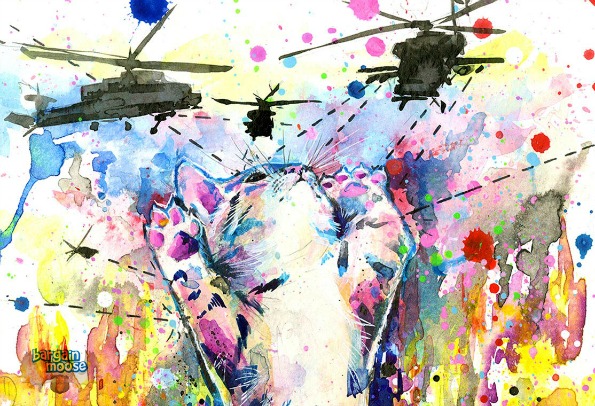 Eyes on Walls Canada has just introduced free shipping with no minimum for Canadians! Previously, Eyes on Walls had a $8.95 flat rate on all orders with no minimum even to receive free shipping.
This change may or may not be permanent. It all depends on the volume of orders they receive. If they receive an increase in orders due to the new free shipping policy, then it may be a viable business model to continue with the free shipping. I have to say that shipping charges often deter me from placing an order, so this new policy at Eyes on Walls makes me very happy. They carry artwork for some of my favourite artists.
For thrifty art lovers, pick up a Mini Art Block to keep your budget low and your walls full. Each block only costs $34.99 with free shipping. You can mix and match art blocks to create an art mural on an accent wall in your home. Sweet Peacock is one of my favourite prints by Camilla D'Errico - I would love to have this piece on my wall.
Whenever there is free shipping at any store, I hightail my way to the sale section. You can save on a set of four art blocks here. This "Bestsellers" Series Set of 4 mini art blocks was $140 and is now $99. That works out to $24.75 per art block, saving you just over $10 per block.
Walls can only hold so much art before the look cluttered or you simply run out of space. Why not put art on something else - like pillows? This Little Red Throw Pillow was $50, and is now on sale for $29.99 with free shipping. Brighten up your space with beautiful art pillows like this one.
Now, this free shipping promo is not only awesome because everyone likes free shipping. It is also an incredible deal in light of what Eyes on Walls sells. Art prints, framed art prints, canvas blocks, and more are large, bulky items that require a good deal of packaging and would usually cost a fortune to ship. If you purchase a large print, that is a lot of packing materials and a good deal of postage to get it from Montreal to elsewhere in Canada. Therefore, free shipping is an incredible deal from Eyes on Walls.
(Expiry: Unknown)