Elora Label Coupon Code: 20% Off Sibling Set Was $79 | Now $63 & Free Shipping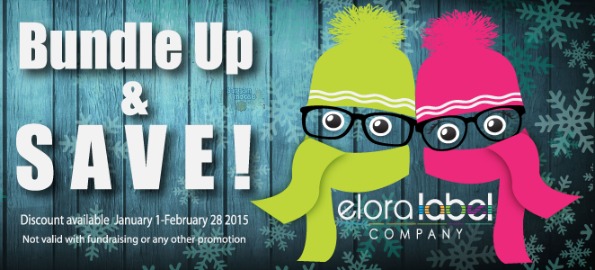 Elora Label Company has a new promotion for the month of February. Receive 20% off their largest label package the sibling set. Originally $78.95, the set comes down to $63.16 with free shipping.
Click here for a label package for your children @ Elora Label now
Coupon Code: WINTER
Discount: 20% of Sibling Set
Expiry: 28th February 2015
This set comes with a massive 268 labels! 134 labels are for one child and 134 labels are for the other child. You can choose a different design and a different icon for each child. Let children participate and choose their own design.
Your 134 labels per child (2x for entire set) include:
(2x) 40 slim stickies
(2x) 40 tag stickies
(2x) 40 little circle stickies
(2x) 12 shoe stickies
(2x) 2 bag tags
I was trying to cross-compare this large set with sets from other companies. Mabel's Labels has a Big Kaboodle set with 114 labels for $48. With the Sibling Set, you receive well over double the labels for less than 1.5 times the price. Oliver's Labels makes a huge camp package with 151 labels for $58.99. However, I calculated out the cost per label. The Mabel's Labels work out to 42 cents a label. The Oliver's Labels work out to 39 cents per label and the sibling set at Elora Label Company set works out to around 24 cents per label. Elora Label has the best deal on labels by far for bulk labels.
Now, I like the set because it works for two children and you can have different colours/designs for each of the 134 labels. Essentially, it is two sets in one for a very good price. The Elora Label Sibling Set is perfect for families who have never tried labels before as the set comes with everything you could possibly want.
Now, Elora Label has another promotion on right now as well. During the month of February, you will receive 10 Free Heart Labels with the purchase of any label set. The fine print says that this promotion cannot be combined with fundraising for any other offer so I assume it will not combine with the 20% off deal above. However, it is a good deal if you just need a smaller label pack like the Starter Set.
All orders at Elora Label Company ship for free across Canada, with no minimum purchase required. For this and any future Elora Label coupon codes, please visit our forum.