Dickies Canada Coupon: 25% Off Everything + Free Shipping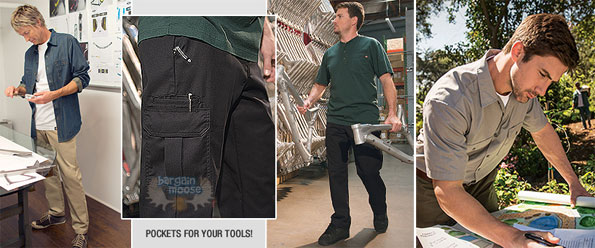 Although Dickies usually only offers free shipping on orders over $75, they have been offering free shipping on any order total for a couple of days now and they have now upped the ante by offering a code for 25% off site wide!
Click here to shop @ Dickies.ca now
Coupon Code: AUGUST25
Discount: 25% off
Expiry: 24th August 2014
With Halloween right around the corner, have you thought of any outfit to wear yet? You could get one at Dickies! Well, sort of. They have a section dedicated to scrubs, which is basically medical-type apparel that can be worn in a hospital or as part of a nurse or doctor-themed outfit. Plus, since scrubs are designed to be ultra comfortable, you could still wear them around the house after Halloween has come and gone. Since a unisex v-neck top is $16.99 and women's back elastic flare leg cargo pants are $24.99, you could get a whole outfit for $31.48 (reg. $41.98).
In general, however, Dickies is great for every day and heavy duty kind of wear. Even better is that this code is also applicable to items that are already on sale. Keep in mind that if you simply click on the "sale" section on Dickies' website, then you will only see a selection of 4 items, but if you hover over it and then select "men", then more items will pop up. In fact, the arctic region jacket that I mentioned a couple of weeks ago is still on clearance and could be yours for just $27 instead of its sale price of $36 (reg. $89.99).
The skinny straight fit double knee work pant is also worth checking out as it's wrinkle resistant and can easily be washed because of its stain release capabilities. Originally priced at $44.99, it's on sale for $31.49 and gets further brought down to just $23.62. What I like the most about these pants is that they don't look like classical work pants as they're not baggy. Instead, they could look like the kind of pants that could easily pass for regular pants, all the while maintaining the comfort and durability that Dickies apparel offers.
For any of you shopping for work clothes or perhaps even for a specific hobby, then the "professions" category of Dickies' website is also worth checking out. You can browse clothes by professions like: automotive, hospitality, municipal services, painters, transportation, etc.