Dell Financial Services: Free Shipping Weekend!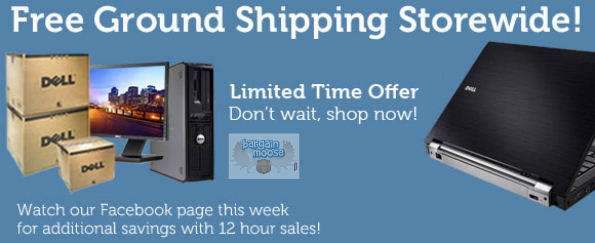 Dell Financial Services is offering free ground shipping store wide all weekend.
Well... I don't have much to say about this sale. You get free shipping on everything in the store. I'm going to go out on a limb here and say that this deal is Canada-only and that if you live in a research trailer in Nunavut, they aren't going to ship it to you for free. Other than that, there isn't a lot to say about this sale.
Dell Financial Services has some great prices on off-lease (read: older) dell desktops, workstations and laptops. They also have some pretty nice "open box" deals. I'm going to let the professional PR shills at DFS expand upon their virtues. Here are the bullets explaining why they are awesome:
DFSDirect.ca is your best direct source of premium grade refurbished Off Lease Dell Computers and Accessories in Canada. Systems typically ship next business day, See Details.
We select only the highest quality Off Lease Dell computers and accessories to go through a stringent visual and technical refurbishment process for sale on our store. We are known for our outstanding quality and reliability!
Refurbished to Dell Specifications with 100 day limited warranty and 30-day total satisfaction return policy.
Shop our retail store for a wide selection of inventory and tremendous savings, unbeatable prices, quality products and outstanding customer service every time you shop!
Re-use of refurbished computers is a recognized way of reducing landfill use and helping the environment. You can do your part by purchasing reliable, high quality refurbished Dell products from DFS. Together we can make a difference!
So, yes, after all that, how could you NOT buy a computer?? Seriously though, they have some great prices and free shipping just to sweeten the deal!
(Expires: 9th September 2012)