Dell Canada: Toshiba Portable Bluetooth Speaker $19.99 (Save $50)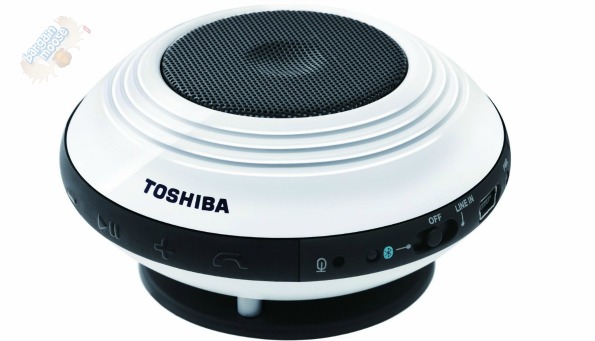 Dell Canada has discounted the Toshiba Portable Bluetooth Speaker & Speakerphone in white by $50 down to just $19.99 with free shipping.
Let's do a little price comparing. The speaker is $69.99 at Staples, $39.99 + $7.34 shipping at Newegg.ca, and it is on sale for $19.99 at Amazon.ca as well, but you will not get free shipping unless you spend $25 or more, so Dell has the better deal.
If you are playing your music at approximately 75% volume level, you will receive eight hours of life out of this powerful little portable speaker. It has a built-in Bass Radiator to improve the quality of your music. The speaker connects via bluetooth to your smart phone or tablet so you can use it as a speaker without any wires or docking required. What makes this speaker extra special is the built in microphone: you can use this device to talk to your friends and family instead of holding your phone to your ear or using your phone's speakerphone. If your phone's speakerphone is anything like mine, it isn't that great.
Built right onto the unit are external controls so you do not need to go back to your phone to change your music or increase volume. The following controls are included:
Volume Up / Volume Down
Play / Pause
Skip Forward / Skip Backward
Answer Call / End Call
Bluetooth / Aux In (can use a cable or Bluetooth)
On / Off
You can physically connect your device to the speaker but reviews say that the Bluetooth connection produces better quality than hard-wiring your device in.
Unlike other inexpensive speakers, you do not need to buy new batteries for this device. It has a built in rechargeable battery and comes with charging cable.
Reviews are split for this unit, with some saying it is not high quality enough, and others saying that for the size and price of the unit it is fantastic. You just have to keep in mind that this device is about the size of a hockey puck and is only costing you $20, so do not be expecting Bose quality sound out of it. I think this reviewer on Amazon sums it up pretty well:
Overall this is a good portable unit that has excellent battery life and is a good way to try out a Bluetooth speaker with little cash outlay to see if you will use it (assuming on-sale price). At full price there are better options available. I would NOT use this in a noisy environment or as a replacement speaker for built in laptop speakers - you need to get a larger device in those applications.
This device is best paired with your iPad or smart phone.
(Expiry: 16th June 2014)