DC Shoes Men's Trainers From Only $16.79 & Free Shipping! (US)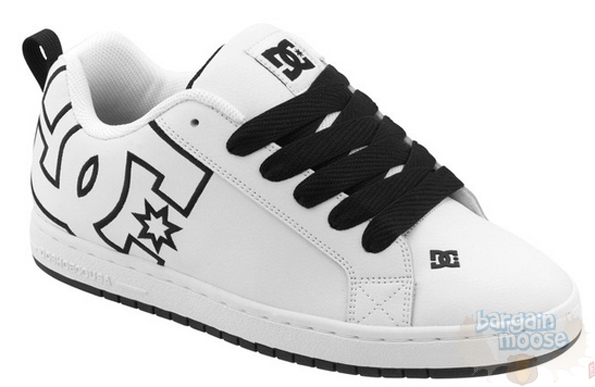 Right now, you can save up to 70% in the sale section at the DC Shoes online store. And for a few days only, there's a coupon code for a further discount – an extra 30% off. Here are the details:
Click here to use the DC Shoes coupon code online now
Coupon Code: LABORDAY30
Discount: 30% off
Expires: 1st September 2014
There are a ton of items to choose from in the sale section, and all come with FREE Canadian shipping, which is a really great bonus.
As per the headliner on this blog post, the shoes I have pictured above are the ones you can purchase for only $16.79 once you apply the coupon code. They're the Men's Court Graffik Shoes (Color: WHITE/BLACK/WHITE wbi) and they were originally priced at $59.99. These particular trainers are only available in size 8 though, so that's quite restrictive. Here's a quick screenshot of that price:

They're the best bargain I can find… but there are still more good prices for only a few dollars more.
For example, there's a lot more sizing choice in the exact same shoes in other colours. If you go for the colour WHITE/ARMOR/WHITE (waw) which are priced at $29.99, they come down to only $20.99. These are available in sizes 8 to 11.
For a different shoe altogether, these Men's Villain Tx Shoes are only $15.75 after the coupon code, but again, only available in a size 9.
It's worth a really good browse through the sale shoes to find the best deals in your size. I've focussed this post on men's trainers, but you can just as easily have a browse in the ladies or kids section.
Shipping & Fees
Even though DC Shoes ship from the US, you don't have to pay any shipping costs whatsoever. If your shopping cart is less than $20, there won't be any additional customs or duties at your door. Also, with the NAFTA agreement, you don't pay any duties on US made items. The DC Shoes site doesn't state which items this applies to though, so there's a teeny chance that you may have to pay an extra couple of bucks at your door, if you're unlucky! Please tell us in the comments below if you've ordered from DC Shoes before and how it went.