Costco Canada: Bridgeport 4 Seat Glider Only $729 ($140 off)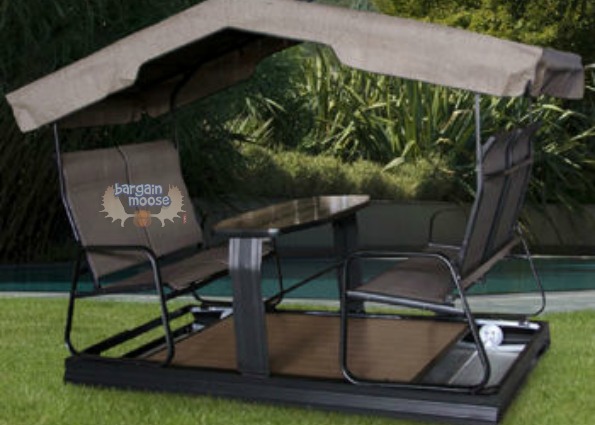 This deal is really exciting for me as I've been eying up this glider for a short while. Get $140 off the four-seat glider from Bridgeport at Costco.ca until June 29th, and it will ship for free. Pay only $729.99 now, with a regular price of $869.99.
I'm moving shortly and looking to furnish my backyard. Right now we have three cheap chairs that really need to go out to the curb and I want something more fun and better looking to sit on. When I was young, my family had porch swings, which I loved and remember the great memories of sitting with family on the swings. I then bought myself one and I have great memories and photos sitting on that swing through the years. This glider is like a two-in-one, because I need something we can eat and play games on, but it also has the gliding function so I can relax on it and read a book or cuddle with one of my kids.
My only issue with it is that I have three kids, so the three of them will have to squish into two seats together. I know this glider is also good quality with a durable aluminum frame, PVC-coated polyester mesh and a waterwave glass table top. I love that it has the canopy over it to keep you in the shade and that you don't have to put it only on a deck, it works well also in a back corner of your garden. It comes in either charcoal or bronze, which are both dark colours that will complement any yard.
What I love about buying things from Costco online is that the shipping is included. A large item like this might cost quite a bit to ship, but you don't have to worry about that. I also love their return policy, which is usually no questions asked, even if you had put this together and taken it apart, they will let you return it as they have a 100% risk free satisfaction guarantee.
(Expiry: 29th June 2014)