Costco Canada: $27 Off KidKraft Savannah Dollhouse - Now $120 (Was $147)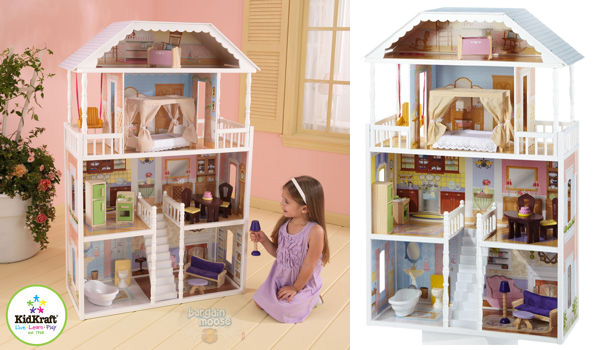 Looking for a unique gift to keep your kid entertained? Then here's a pretty sweet deal from Costco Canada: the KidKraft Savannah dollhouse has been reduced by $27 and can be had for just $119.99 (reg. $146.99).
Just the picture alone is making me want the dollhouse for myself, ahem, I mean for whenever my daughter is old enough to play with it, but what makes it even more awesome is the fact that this 8-room dollhouse is made of wood, has 4 floors and comes with as many as 14 furniture pieces.
Although both Amazon.ca and Best Buy have this same dollhouse for $145.98, Toys R Us actually has it for as high as $229.99!
Plus, according to the following Toys R Us reviewer, it's super easy to assemble as well, though you may have to allocate about an hour to its assembly:
I bought this Doll House for my daughter's 3rd Birthday and it was a hit! My other daughter who was one at the time really loved it too. It's beautiful and very sturdy. We've had it for a year now and it still looks like new. I've read other reviews saying that it was hard to assemble...seriously!? Maybe it was written by a man! Believe me, it's not hard! I did it on my own and if you follow the instruction it's really easy. Of course you have to assemble it before you give it to your daughter because it does takes about one hour to assemble if your alone. I have no complaints, we all love it and it looks great!
As usual, shipping is also absolutely free!
(Expiry: 6th April 2014)