Costco Canada: $120 Off iRobot Roomba 780 Vacuum Cleaning Robot - Now $479 & Free Shipping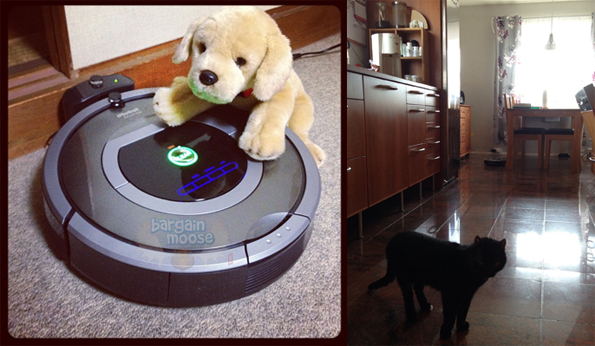 Is Sunday your cleaning day? It is mine! If you're tired of vacuuming, then get the iRobot Romba 780 vacuum cleaning robot. It's currently on sale for $478.99 at Costco, which is a $120 price reduction from its usual price of $598.99. Shipping is absolutely free as well.
Okay, so a cleaning robot like the iRobot Roomba wouldn't necessarily eliminate the vacuuming chore altogether but it's still a great way to try and keep the house clean in-between vacuums -- or so I've heard.
The iRobot Roomba 780 features a 3-stage cleaning system with AeroVac Series 2, which is designed to pick up as much dirt and debris as possible. It's even supposed to be great for pet hair but you would have to test that one out for yourself as we all know how plentiful it can be! With the Dirt Ditect Series 2, it also also acoustically sense where there's dirt for what I can only assume is supposed to be a more in-depth cleaning.
On top of including 2 Virtual Wall Lighthouses, which you can use to control where the Roomba goes, it also comes with the following extra items:
extra set of brushes (side, bristle & beater)
2 cleaning tools (round & flat)
2 extra HEPA filters
Oddly, there are no reviews for this version of the Roomba on Costco's site but I did find a number of positive reviews at Best Buy, where it's currently priced at $649.99. Out of 12 customer reviews, it received a general rating of 4.3/5 stars with reviews like this funny one:
You should see this Roomba navigate it's way around my place like a blind three-toed sloth. It went into a mess of cables and got stuck for like 45 seconds then escaped. I breathed a huge sigh of relief that it got out. Then it went right ahead and tried to go back over the same cables. At which point I'm thinking, "Hey robot,, you just got out of a snake pit of cables and now you want to dive right back in?" I've never had to help it though.
In fact, it's $649.99 at Amazon.ca as well.
Cleaning products like vacuum robots can be a hit or miss but personally, I'm very tempted to give this one a try for the possibility off a reduced amount of dust bunnies and pet fur balls flying around in-between official vacuums.
(Image Credit: Tadashi Okoshi & Patrick Strandberg)
(Expiry: 5th July 2015)