Chapters Indigo Canada: Free Shipping with No Minimum Spend!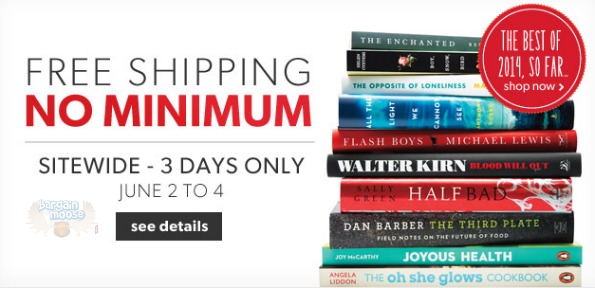 Who wants to shop online and not pay a cent for the cost of shipping right now?  This is the deal you will get for the next three days at Chapters Indigo Canada.  Get free shipping on every single order.
There is no coupon code required to get this free shipping deal and there is absolutely no minimum charge to get it either.  There are a couple exclusions however.  You will not be able to get free shipping on gift cards, rare books or oversize and heavy items.  Other than that, you will get free shipping on your order.
Normally there is a minimum charge of $25 to get free shipping on your order.  The minimum charge is normally $25 which is actually pretty low for a store to start with.  This deal is perfect for those time you just want to buy one thing or something small or on sale and you don't meet the minimum requirement.
I was in desperate need of some Father's Day gift ideas so I headed to the sale section first.  I found all sorts of gift ideas such as electronics, books, household items, movies and more for up to 90% off the regular prices.
My dad is really into golf and I think I have found him the perfect book.  Golfing with Dad was $23.95 and is now on sale for just $4.74. That is 80% off the regular price and a gift like this would normally be charged the cost of shipping because it does not meet the minimum.  For the next three days, I can get it at the 80% off and not be charged any shipping on top! You really can't lose!
(Expiry: 5th June 2014)