Canon P1-DHV G Printing Calculator Was $30 | Now $18 & Free Shipping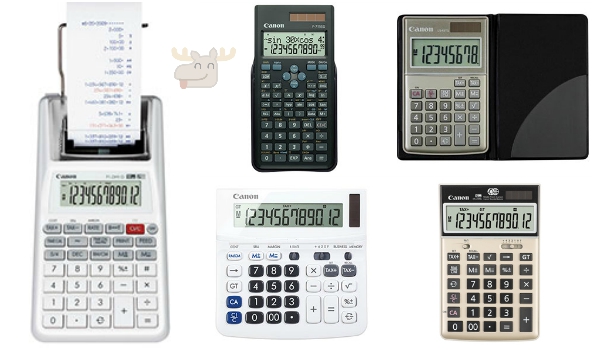 Canon Canada currently has the P1-DHV G Printing Calculator on sale from $29.99 down to $17.99 with free shipping. This is a 'damaged box' model where the calculator is in fine condition but the box is a little worse for wear. This is a great way to pick up a printing calculator for much less than the usual price, perhaps for back-to-school.
Printing calculators actually 'print out' your calculations and are useful when you need a paper trail for your math. You can use one when you are doing your taxes, balancing the books, calculating your monthly expenses, or working on the finances of your home based business.
This calculator has a 12-digit large liquid crystal display. There is a profit margin calculation, easy tax calculation, and a time calculation. For percentages, you can control rounding via the Round Up/Off/Down switch.
The two-colour ink roller printer helps you keep track of your calculations. For those interested in helping the environment, the lower casing is made from 100% post-consumer recycled plastic.
I price compared this calculator with other online retailers. Amazon Canada sells the same calculator for $29.99 and Staples Canada sells the calculator for $39.62. This same calculator is $41.71 at Shop.ca. You are really saving a good chunk of change by buying the damaged box version at Canon.
This is one of many calculators on sale because of box damage. Other box damage calculators start at just $3.99 and go up from there. All come with free shipping, of course. For those on a budget but still need a calculator with the tax functions, purchase the LS-63TG that was $6.99 but is now $3.99.
For those in need of something far more functional, this F-715SG Scientific Calculator comes with 250 possible functions for anything you might need. Originally $14.99, it is now on sale for $8.99. Scientific Calculators are my favourite because they have so much more screen space for calculations.
If you really need a printing calculator but the one above does not have enough functions, then purchase this box damage P23-DHV G calculator that was $39.99 but is now $22.99. It is, essentially, the big brother to the printing calculator featured in this post.
(Expiry: 9th August 2015)