Canada Post Coupon: 50% Off Summer Shirts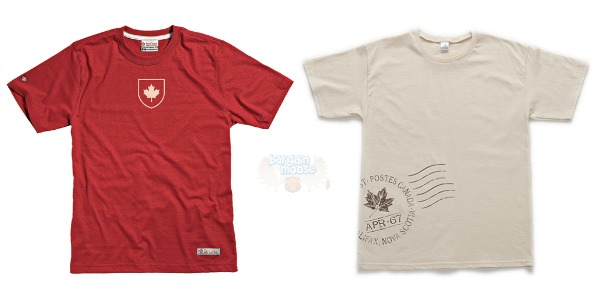 Canada Post is hosting a summer t-shirt clearance with 50% off all shirts when you use the following coupon code.
Click here to shop t-shirts @ Canada Post now
Coupon Code: SUMMER
Discount: 50% off tees
Expiry: 30th September 2014
There are a few shirts to choose from. One of the t-shirt series is of a postmark from various cities around Canada. Most of the shirts are from the bigger cities like Toronto or Montreal, but I did find this fun Vulcan Postmark T Shirt if you are from a small town in Alberta, or you just like a certain pointy-eared gentleman dressed in blue and black who flies on a space ship. The shirt I linked to is the men's shirt in medium, though you can find other sizes. Originally $24.99, the shirt comes down to $12.49 after coupon. The postmark tees are designed to resemble a manila envelope with an off centered postmark. They are made in Canada of 100% cotton.
While most of the shirts are in the postmark design, there are a couple XL shirts available in other designs. This XL Trans Canada Ontario T-Shirt in blue and this XL Canada Shield T-Shirt in red are the other two designs you can pick up. They are leftovers from an older run of t-shirts made by Canada Post. Both shirts retail for $32.50, but come down to $16.25 each after coupon code.
While there is not a huge selection of shirts, this deal is still pretty nice because you get 50% off. The postmark series comes in both men and women's sizes while the other two designs just come in what is leftover. You can find shirts for the following cities:
Halifax
Toronto
Montreal
Ottawa
Vulcan
It is odd that many of Canada's major cities (especially in central and western Canada) are not included, but it may be that they sold out quicker than these ones have.
Now, if you are planning to make a purchase you should certainly do so today, or next Friday. However, your selection would be the absolute best today so I suggest making your decision quite soon. Canada post hosts Free Shipping Fridays where you can get any order shipped for free with no minimum. If you wanted to purchase just one shirt, then you could do so today with no shipping charges. On any other day Canada Post has a $25 free shipping minimum spend.
For this and any future Canada Post coupon codes, be sure to check out our forum.