Browns Canada: 70% Off Browns Handbags & Free Shipping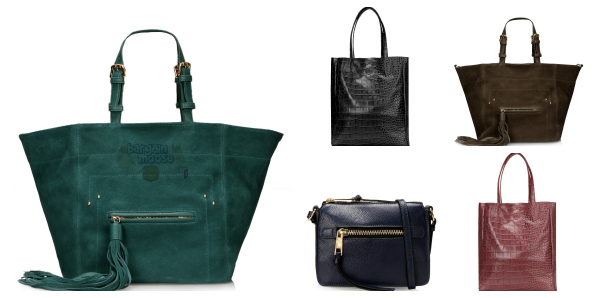 I found a selection of three handbags on sale for 70% off their original prices! Combine this with Browns Canada free shipping on all orders with no minimum. Usually, they require a $198 minimum or you would pay $5.
I was really hoping to find a nice handbag at a good sale price and I found three! The following three Browns handbags are all 70% off their original price and will come with free shipping.
This is my favourite bag of the three I am talking about today. This large tote is made of gorgeous suede and comes in three different colours: green, burgundy, and brown suede. I rarely see any handbags in green, let alone green suede, thus this bag quickly won my heart. This is quite a large tote, as you can see on the model silhouette that browns provides for size ratio. Originally $225, the bag is now on sale for $66.98 with free shipping.
Next, you will not want to miss this box-shaped suede tote from Browns. This tote comes in your choice of burgundy, grey, or brown suede. I am assuming the suede side is facing inward as the outward portion looks more like glossed leather to my eyes. It also has a crocodile like pattern to the outside. I remember when Roots Canada made a bag like this a few years ago; everyone had to have one! Originally $150, this boxy suede tote is now $44.98 with free shipping.
This Browns blue denim leather purse is about the perfect size for everyday use. It comes with plenty of compartments sealed with large chunky zippers. The metal hardware on denim blue leather provides a nice accent. The blue denim would look great with cut off denim shorts, blue jeans, and even summer dresses. Originally $130, this leather purse is now on sale for $39.98 with free shipping.
If you need a new handbag, then I recommend checking out these three deals at Browns Canada. Seventy percent off leather and suede products is a very lucrative sale. Even I would take advantage if I did not already have one purse too many.
Hey Moosers, which of these handbags do you like best?
(Expiry: Unknown)