Body Candy (US) Coupon Code: Free Shipping No Minimum (EXPIRED)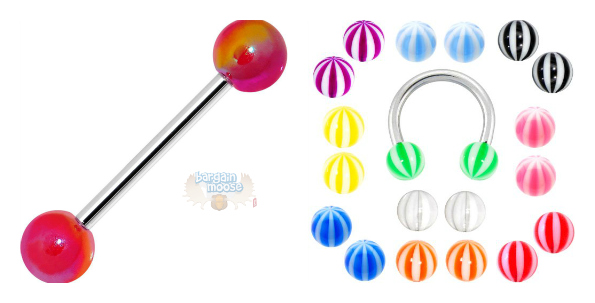 Once in a while Body Candy throws out these really great coupon codes for free shipping with no minimum. Usually, Body Candy requires your purchase to be $19.99+ for free shipping. All prices are in USD.
Click here to shop @ Body Candy now
Coupon Code: ship4free
Discount: free shipping
Expiry: 26th June 2015
One-day deals for free shipping are a bit far between at Body Candy. However, they are worth waiting for. As I have mentioned before, Body Candy sells some of the most inexpensive body jewellery around. Are you are in the market for belly rings, earrings, nose rings, ear spacers, and more? Then bookmark Body Candy as they are the best place to get quality and junky body jewellery.
I always look at the deal of the day first. Today, you can score a lovely 0 Gauge Rainbow Titanium Dreamcatcher Dangle Tunnel on sale from $27.99 down to $4.79. I just adore the appearance of rainbow titanium as it is pretty much the rainbow caught in a piece of metal. The colours are vibrant and they really are eye catching. This is a gorgeous piece that makes me want to get my ears stretched... just a bit.
This year is the 50th anniversary of the Canadian Flag. Celebrate your love for Canada with this lovely little Canada Flag Dangle Belly Ring. Originally $33.99, the belly ring is on sale for $11.99. I am not one to dress up in red and white or paint my face for Canada day. However, I would be more than willing to sport such a belly ring to remind my country how much I appreciate being a part of it.
For the budget minded Moosers, the clearance section and the $1.99 jewellery section should be on your must visit list. I should send this Indicolite Nose Bone Created with Swarovski Crystals to my mother as she has her nose pierced. Originally $25.95, this nice ring is on sale for $1.99. I like giving random gifts to people that I love. Surprises - like small gifts - are one of the beautiful things that make the world go round.
Fellow blogger Brooke let me know that:
I signed up for the email newsletter and got a 15% off coupon that was able to be combined with that free shipping coupon. The coupon says it is 15% off $20 or more, I didn't spend $20 and the 15% off applied
Thanks Brooke!
Canadian customs could apply on orders over $20 CA. However, I have never been hit with duty from Body Candy on my orders. In addition, this coupon allows you to place separate orders - with no shipping costs and no minimum - so you can easily stay below the custom's threshold.