Best Buy: SanDisk Extreme Plus 64GB Class 10 UHS-I Memory Card Was $100 | Now $60 (EXPIRED)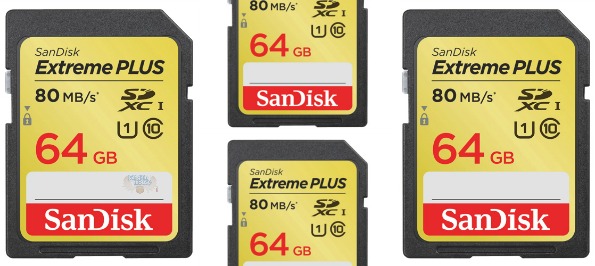 Best Buy Canada has a great deal on a truly professional memory card. The SanDisk Extreme Plus 64GB 80MB/s SDXC Class 10 UHS-I Memory Card is on sale from $99.99 down to $59.99 with free shipping.
This is no ordinary memory card. The SanDisk features reading speeds of up to 80MB/s and writing speeds up to 60MB/S for quick transfer rates and quick picture taking. The picture is stored in your camera's memory fast - there is no delay here. This is both a Class 10 card and has the UHS Speed Class 1 (U1) video rating. That means this card can handle cinema-quality 3D and full HD videos. You want this card if you are recording RAW video.
When price comparing, you need to find the right card to compare against. There are several 64GB extreme memory cards from SanDisk - so make sure you are comparing against the Class 10 and UHS Class 1. I found the same memory card at Amazon Canada for $129.95 and at Vistek Canada for $139.99. I have seen similar cards - like the U3 - for as low as $63 but that only had a reading speed of up to 60MB/S instead of 80MB/s.
This is a card you might want to use in high quality digital cameras where you will be shooting HD movies or taking raw photos. This is certainly a professional quality memory card, and one I would be happy to stick in my Sony camera. The speed would make it excellent for action shots - like when I took a 19-image action snap of a geyser bursting. I wish my memory card had been faster so I could have captured more images - especially in the early stages.
One reviewer recommends this card when it is on sale:
Got this for my Canon Rebel during this year's Black Friday sale. Works fine and got a good deal for it. It would probably be best to wait until another sale to get this if you're not in a hurry to get it.
Well, here is another sale! For only $60, I think this is a fantastic buy especially at 64GB of memory. It will take you a while to max that out for memory.
(Expiry: 2nd April 2015)