Best Buy: Insignia 6-Sheet Cross-Cut Shredder Was $50 | Now $30 & Free Shipping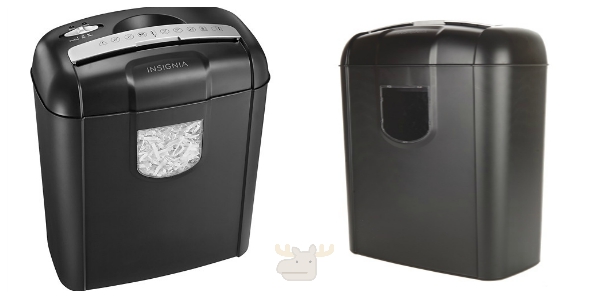 Best Buy Canada has discounted this Insignia 6-Sheet Cross-Cut Shredder (NS-PS06CC) from $49.99 down to $29.99. As this shredder costs over $25, you will receive free shipping.
This is hands-down the cheapest shredder I found from any of the major retailers right now. Shredders are a necessity in most households as private documents should never be disposed of whole in an effort to protect yourself from identity theft.
The cheapest six-sheet cross-cutter shredder on Amazon.ca currently costs $39.99. While not a six-sheet cutter, the cheapest cross-cut shredder at Staples Canada is $49.98 and at Walmart Canada it is $79.98. At Costco, the cheapest 6-sheet cross-cut shredder is $46.99. Given the price range of the cheapest 6-sheet cross-cut shredders elsewhere, I figured this was a great deal.
One reviewer said:
Works well. Had it trip once and had to wait until it cooled down to reset. TIP: use vegetable oil to oil the shredder after a bin full
The main complaint from reviewers was the machine overheating and then 'tripping' - shutting off - as it needs to cool down. First, this only happens when you are really doing a lot of shredding and secondly, the reviewer above has a suggestion to help keep your shredder in tip-top condition.
While I am guilty of not shredding my sensitive documents, I do tear them up into tiny little pieces in an attempt to be safer. However, I should get a shredder to be on the safe side. I still receive physical copies of my credit card statements, which need to be disposed of properly.
This is the cheapest shredder I have seen in three years and is the cheapest shredder we have posted about on the blog in three years (since 2012). Given my price comparisons and shredder history on the blog, I think this is a fantastic deal. I think I might just buy one for myself finally and be a more responsible human being. Then I can use the shredded paper as stuffing when I send packages! I like reusing and recycling.
(Expiry: 20th August 2015)