Best Buy Canada: Canon MF4770N Laser Printer For $69.99 (Expired)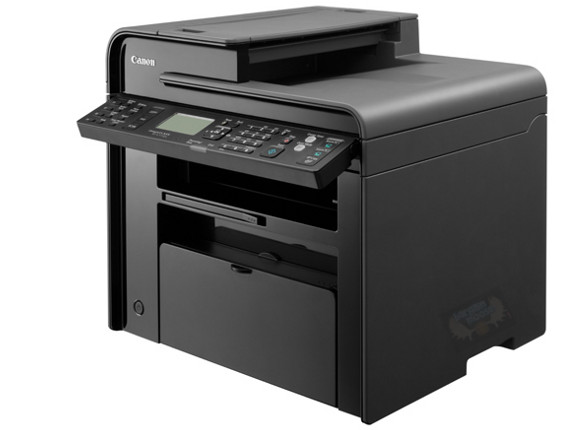 Printer ink can be quite a pain to deal with. A few days ago, I just had to replace the black ink in my all-in-one desktop printer after roughly a month of usage. In other words, I spent roughly $70 on printer ink in 60 days (taxes included), and considering the fact that I barely print out any colour pages, this particular deal intrigues me. For a limited time (until tomorrow - September 2nd), you can get a Canon MF4770N all-in-one monochrome laser printer with fax capabilities at Best Buy for $69.99 - that's $130 off of the regular price of $199.99. Since it's over $25, this deal also qualifies for free shipping.
Laser printers have many benefits. Not only do their ink/toner cartridges last much longer than desktop printers, but they're great for users needing to print oodles of pages at a time. This is why so many businesses have laser printers - they're just more efficient. Though you won't be able to print colour pages, that shouldn't bother professionals (such as myself ;) ) that mainly need to print documents on a regular basis.
Some of the features of this Canon MF4770N laser printer include scanning, copy, and fax capabilities, rapid printing speeds (up to 24 pages a minute), the ability to hold up to 250 sheets of paper at a time, and networking support. It even has a quiet mode function, which I think is pretty handy. Printers are generally loud, so this is a welcome change.
Even though many people nowadays wouldn't really have a need for this printer's fax capabilities, what makes this a great deal to me is the fact that it's a laser printer. When you eventually have to replace the toner cartridge on this printer, it seems like Amazon has the best deal on getting new ink, since it'll only cost you $15.99 plus shipping (unless you get a minimum order of $25 - then you can get free shipping from Amazon).
If you were looking to purchase this multifunction laser printer on Amazon.ca, it would cost you $99.99. Tiger Direct sells the Canon MF4770N for $129.99. At $69.99, Best Buy provides you with the best deal on this multifunction laser printer. Listed below is part of a review of this printer from Amazon:
This is the best printer I've ever owned. It does it all, and does it well. It barely uses any power in energy saving mode, yet wakes up and begins printing a document before I get to the printer. Scanning can be a bit confusing if you haven't done it in a while, but usually a sheet fed scanner costs more than this device. Copying is super simple. I don't have a land line, so I've got nothing to say regarding the Fax capability, but who faxes anything anymore? The Ethernet interface is quite handy, allowing me to consolidate onto one device.
If you still haven't purchased a printer for back to school, now's the time to get one!
(Expiry Date: September 2nd)