Beaver Canoe Canvas Billfolds Were $28 | Now $14 & Free Shipping @ Roots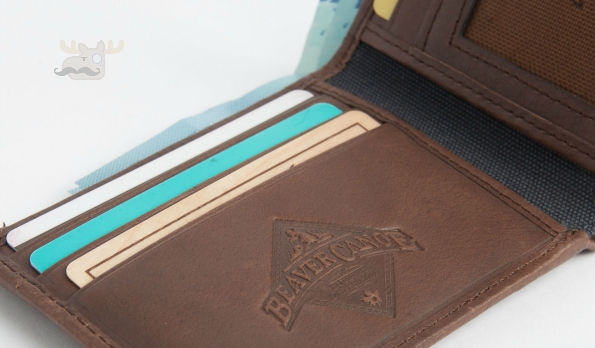 I think I have bought more wallets for my male friends than the average woman usually does. For some reason, my male friends always tend to have these wallets that are going to fall apart any second. If you are in the market for a new wallet, then pick up one of these Beaver Canoe Canvas Billfolds. Originally $28, they are now on sale for $19.99. However, Roots Canada is offering an extra 30% off their Beaver Canoe line, thus these billfolds come down to just $13.99 each with free shipping.
Each billfold comes with four card slots, an ID window, and a slot for your paper currency. They are made of a composite of canvas and leather for ultimate durability. Canvas is one of the most durable fabrics known to mankind and many a canvas backpack has outlived its owner. Leather is also stretchy, it gives a beautiful accent on the inside, and it ages quite well.
The brown wallet is completely brown but the navy wallet combines brown leather with blue canvas for a nice accented wallet that is slightly different.
Now, you may not notice at first but the wallets are actually slightly different. The brown canvas wallet has a leather patch on the bottom right hand corner that says 'Beaver Canoe'. However, the Blue model has a full column of leather on the right hand side with the logo. I actually far prefer the design of the blue wallet... it looks less 'rugged' while still being a very rugged wallet.
If anyone in your family needs a replacement wallet, then this might make a good gift. You could also stick one in their stocking this Christmas as these wallets are affordable (at $14 or 50% off their original price) and small enough for a stocking stuffer. As you also save $4.99 on shipping, this is a really nice deal from Roots Canada.
(Expiry: Unknown)