Ardene Canada: Jeans Were $40 | Now $11 & Free Shipping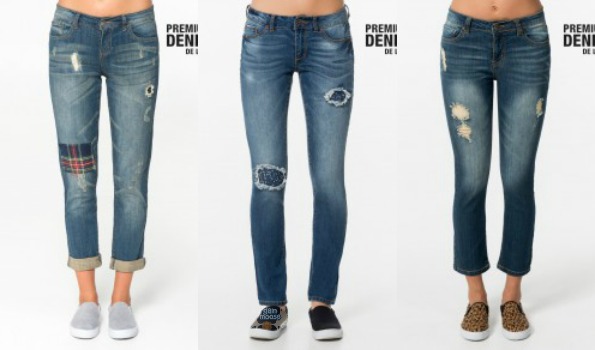 Ardene has a fantastic deal going on with a bunch of styles of jeans on their site. The jeans are 70% off, with a regular price of up to $39.50, and now priced at $11.85. On top of this, they've got free shipping, no minimum on right now, so you'll also save yourself that fee!
If you are in the market for some new funky jeans, Ardene is the place to shop right now. With jeans regularly up to $40, they've already got some great prices on denim. But, getting jeans for only $10 for adults is pretty much unheard of! While these jeans might not be for the older ladies among us (when I say older, I mean over 30, maybe even over 25), they do well for the teen and young lady set. I also say this because many of the sizes available are smaller, and I haven't been that size since I was 17 (I can't comment on anyone else ;)).
The first style I see is the patchwork premium denim medium wash jeans. These are classic looking distressed jeans with a cute patch on the knee. The sizes left are 00 and 3.
If you like dark wash, these skinny cargo premium denim jeans are cute with pockets on the legs in that cargo style. They've got a size 5 left in this style.
Another distressed patchy style is these ripped patchwork skinny jeans, with sizes 0, 3 and 9 left. I like how the patch kind of blends in with the jean.
There are cheaper jeans that will cost you even less, that are also 70% off like these sandblasted distressed boyfriend premium jeans that were $34.50, now $10.35 or these washed flare premium denim jeans, also the same price.
Normally, you'd have to spend $60 to get free shipping, but today until I don't know when, you'll get free shipping with no minimum, which is great to pair with this hot deal on jeans.
Of course, you can pair the free shipping with any other deal on Ardene's site, and I see quite a few!
(Expiry: Unknown)