Amazon Canada: iPong I0 Topspin $49.99 (Save 62%)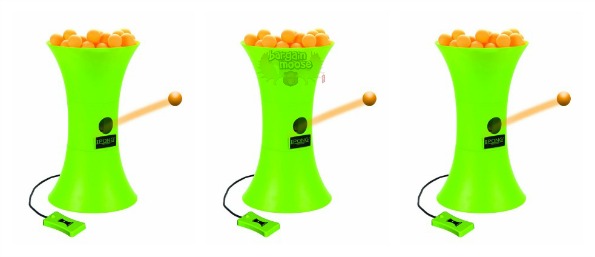 There is a really cool deal happening right now over at Amazon Canada for the sports enthusiast.  For a limited time only, you can get an iPong 10 Topspin for just $49.99.
The regular price of this machine was $129.95, and it is now just $49.99.  That is 62% off the regular price, which is a great deal.  It is a newer product, so it is a little hard to price compare.  I did find it on eBay selling for $77.27 plus shipping, and at the iPong store for the same price plus shipping.  All in all, the deal at Amazon Canada was the best and lowest price I could find.
I love playing ping pong, but it is a two person sport.  This machine allows you to either practice your sport or be able to play a little by yourself.  It is a cool robot that shoots out customizable topspin balls so that you can master your table tennis skills. You can easily adjust the power and spin in which the balls shoot out with the attached wired remote control, and it comes with 100 balls to practice.
As an added bonus, you will get free shipping for this order!
(Expiry: 28th July 2013)