Amazon.ca: Monster High Clawdeen Wolf Doll Only $9.99 & Free Shipping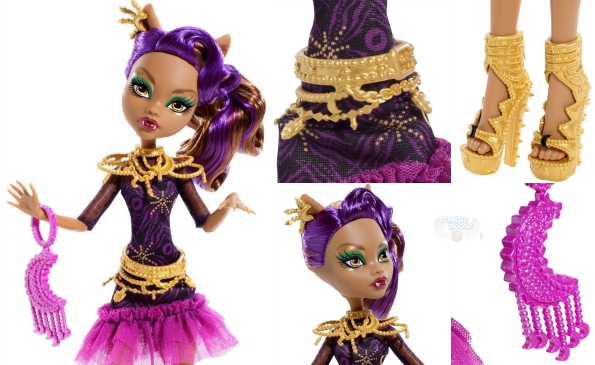 **BUMP: This deal is back on!**
As I was price comparing Monster High dolls for my own personal collection, I ran across a fantastic deal on a new doll from a secondary seller at Amazon Canada. Fun Collectables CA is selling the Monster High Frights, Camera, Action! Black Carpet Clawdeen Wolf Doll for only $9.99 with free shipping. That is right; the $10 doll alone will receive free shipping: no minimum order amount is required.
As Monster High Dolls retail from $20 and up, I figured this doll is a fang-tastic deal with shipping thrown in as well. While this is one of the older series, this doll will fit in with all your other Monster High dolls no problem.
Clawdeen Wolf is the daughter of a werewolf and she dresses to kill! Her dress has an art-deco inspired print with a lacy ruffled hem. Her gold accessories include a layered belt, ear clip, necklace, and ankle boots. For a little contrast, Claudine's purse is a pink moon - which harkens back to the influence that the moon has on werewolves.
I price compared this doll with as many places as I could find it. On Amazon, the next best price is $25 with free shipping from Amazon Canada. I found the doll sold-out at Walmart Canada for $19.97. While this particular doll is no longer stocked at Toys R Us, the cheapest dolls on there are $19.99.
I posted about a rare $10 Lagoona doll on Walmart yesterday, and that doll is already sold out because Monster high dolls - at this price - are just awesome. That doll didn't even qualify for free shipping to your home, but this Clawdeen wolf doll does.
Monster High dolls are really popular with kids and collectors alike. Many young girls just love the dolls and prefer them over Barbies and Bratz. Personally, I really like the Monster high dolls with the vampire and bat dolls being my favourite. I own four of the dolls and am always on the lookout for inexpensive additions to my collection. I set my budget pretty low - $12 or so - for any new doll I want thus I am always on the hunt for great deals like this. I assume this offer will sell out quickly just like the Lagoona doll did yesterday.
(Expiry: Unknown)