Addition Elle Canada: Love & Legend Moto Jacket Was $140 | Now $65 & Free Shipping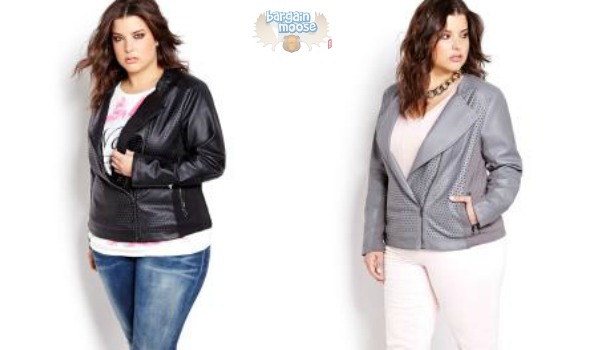 Addition Elle has some really great prices on right now that you need to know about. A month ago, Anna posted and told you about up to 70% off sale items, but when I checked those items, they are now even cheaper! First of all, they still have items up to 70% off, but then they will be discounted another 50% off. On top of that, they have a free shipping coupon I will tell you about, so no matter what you buy, it gets shipped to you for free. One item in particular I wanted to mention is the Love & Legend Moto jacket. Regularly $140 and on sale for $129.99, you'll get it for $64.99.
This very cool jacket comes in gunmetal or black and I love both. The sizing from X to 4X is available in both colours. Made of perforated faux leather, it has an asymmetrical zipper and zips at the sleeves for the ultimate in chic styling. This jacket will hug your curves and take you from day to night easily.
This is a jacket that would be in available in my closet for years. While it isn't truly leather, it has a classic look with some serious touches, but one that can be worn year after year.
Normally you'd have to spend over $100 to get free shipping, but if you use the coupon code SHIPPINGONUS, you'll be able to get free shipping on any spend.
As I said above, many of the items that Anna previously blogged about are now more severely discounted. For example, this Love & Legend cropped sweater, which would pair very nicely with the jacket was $60, then brought down to $14.97 when Anna blogged it. Well, it is now only $7.48. If you just wanted the sweater, that'd be cool too and you'd get your free shipping on top!
(Expiry: 13th April 2015)