Accessorize (UK): Free Shipping to Canada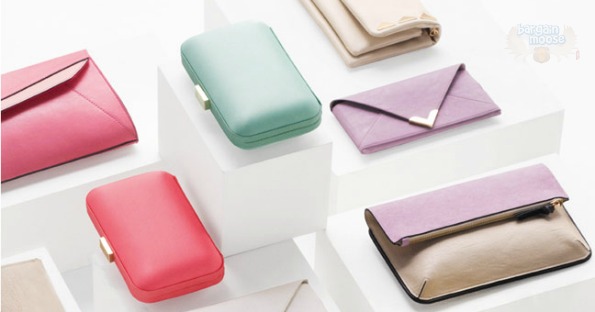 Accessorize is a UK company that offers free standard shipping to Canada! Thus, it is high time our Moosers and this pretty little website got better acquainted.
Goodness knows I need a new clutch. I have been saying this for months now and keeping my eyes open for the perfect beauty. This Patent Satin Trim Hardcase Clutch totally caught my eye even though it doesn't come in black. The cream is actually pretty nice for a minimalistic clutch that just fades into the background and does its job. Its clean cut, a beautiful shape, and would hold my ID, credit card, and lipstick for an evening on the town. In fact, it is actually appealing that it is not black because I would probably be wearing black with it so in this way the purse might even pop. The price point is pretty great too, only $59.
I wandered my way into their outlet section, which is a dream for anyone who loves to accessorize. The first deal I spotted was the Leopard Faux Fur Lined Earmuff that was $33 and are now $9.99. So adorable! I then fell head over heels for this Purr Kitty Beanie, which makes me want to squeal (major kitty lover here). The beanie originally cost $29 and it is now on sale for $9.99. I was absolutly hooked when I spotted these Naughty Animal Footbed Slippers  on sale for just $16.50, originally $33. My husband has been bugging me to get slippers for ages and I think I finally found ones I want.
Now, if you order over $20 worth of stuff you can be subject to duty/customs when your package crosses the border. I have not ordered from this company yet so I don't know the prevalence of that.
(Expiry: Unknown)