(75% off!) Chunky Cabin Armwarmer only $8 & Free Shipping @ Roots Canada! (EXPIRED)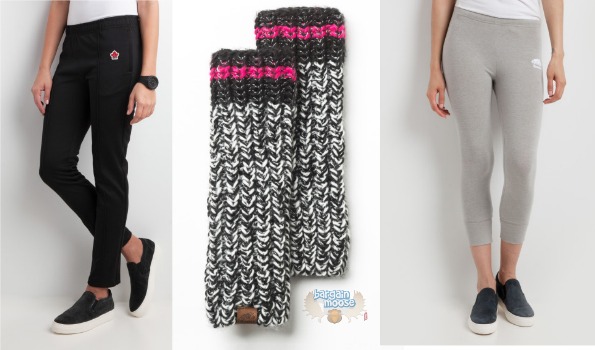 Here is a great chance to add to your stockpile of winter accessories. The Chunky Cabin Armwarmers were $32 but are on sale for $9.98. Roots Canada is currently offering an automatic extra 20% off, bringing the total down to a cool $7.98. Roots Canada is also currently offering free shipping with absolutely no minimum!
I love the style on this piece. These armwarmers are in a black and white marled knit. On the wrist is a cuff in black with a cute bright pink stripe. I would use these in my office to help keep my arms warm. Sometimes in winter, I end up near the chilly window typing with cold fingers. Fingerless gloves with the removable mitten always end up flopping over my fingers, but these armwarmers would do the trick to keep my fingers toasty. I think that with the added slight touch of spandex, these armwarmers have a lot of flexibility to them. My home crocheted arm warmers will always be a touch less flexible. I do not think I could even make a pair for this low cost. The yarn would cost more than this price today, especially if you needed more than one colour. There is something about this accessory that makes you feel cosy. Seeing this accessory makes me think about wrapping up in a blanket with a cup of warm tea. Fall and winter always appear quicker than I expect. Avigayil blogged about these armwarmers a few weeks ago and they were a good price then, but now they are a remarkable price!
This massive sale at Roots is still going on, and there are a few other fantastic buys today. If you are in need of pants, you should consider the Tammy Tack Pants. These pants were $69 but are down to a cool $34.99. Once you add them to your cart, they become only $27.99. These are a solid piece in black in every ladies wardrobe, no matter the season. You can find these available in sizes XS to XL. These pants are slim fit and included zippered pockets, which I quite like when I am heading out with only my keys in my neighbourhood. They also have a stirrup at the heels that are removable.
I also like the ladies Bella Crop Leggings that were $28 and are on sale for $19.99. Once you add them to your cart, your price drops to only $15.99. These leggings are available in both a navy blue and a grey. The grey has every size from XXS to XL, while the navy only has XXS, XS and S still available. I like that these leggings are designed to be a little lighter in weight then the sweatpants, which I often find too bulky. These crops will move with you while still providing all the comfort and style we expect from Roots.
I do not expect this sale will keep going on too much longer. Shop for your favourites now before it is all gone. I have a sneaking suspicion with Canada Day around the corner, this sale will end shortly after the holiday.
(Expiry: Unknown)