75% Off Boum Watches & Extra 20% Off Coupon & Free Shipping - Just $23 @ This Counts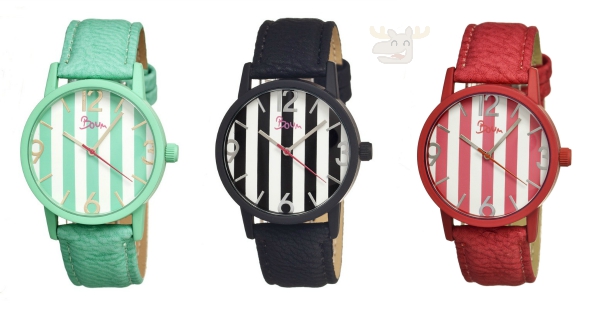 I LOVE digging up hot deals for you my sweet little Moosers, and this amazing watch deal from This Counts is pretty awesome. Right now, they have discounted the Boum Gateau Collection Watch from $117 down to just $29 each. That is 75% off the original price my dear Moosers. Then you can use exclusive coupon code BARGAINMOOSE to save 20% on your first purchase at This Counts Canada. After coupon code, pay just $23.20 per watch with shipping & taxes included.
There is another reason you want to get in on this deal besides the fabulous price: 25% of all proceeds from the sale of these watches goes to the Sick Kids Foundation. I honestly cannot think of a better deal on watches nor a better reason to purchase one of these watches. In total, you are saving $93.80, which is approximately 80% off the original value of these watches. The free shipping and no taxes is a huge bonus.
I really like the style of this watch and it comes in plenty of colours as well. You can choose from:
turquoise
yellow
red
Cerulean
Black
I price compared these watches but they cannot be found elsewhere in Canada. Boum sells their own watches for $90 USD a piece. Amazon.com has that listed as their original price, but has them discounted for $59 USD per watch.
These are simple but terribly stylish watches. The band is made of authentic leather with a flat metal case finish. The background of the watch face is striped with whatever colour you choose and white. The band matches the colour: so red and white stripes have a red and white band. The hands are gold coloured so they show up easily on the face and they offer a bit of charm and sophistication to the watch.
I think these women's watches are totally adorable and I am tempted to buy the yellow one as it totally matches a dress that I own. I think this is a hot deal and I hope my lovely Moosers enjoy it. These watches would also make great gifts for Christmas.
By the way, if you are not a new customer, then you can still use our exclusive coupon code MOOSE15COUNTS for 15% off. The watch will just be a tiny bit more - but still an excellent deal. You also MUST create an account in order to shop at this website.
(Expiry: Unknown)