75% Off 17-Month Kate Spade Small Planners - Now $8 & Free Shipping @ Chapters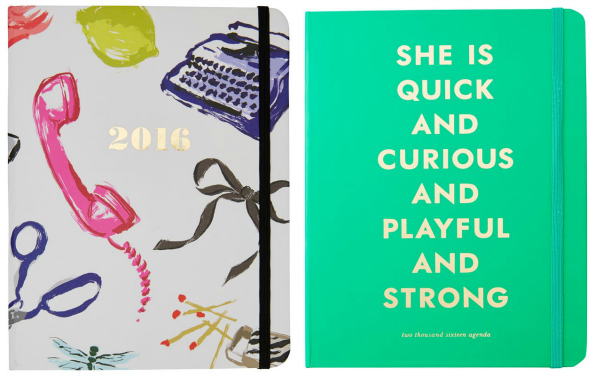 Most women I know still use a physical day planner to get them through the year. While digital is gaining ground, there is nothing like being able to jot down, sketch, highlight in different colours, and sticky note your life into some sort of order. For those of you keen on planners, Chapters Indigo Canada is offering 75% off two Kate Spade New York 2015-2016 Small Planners. These planners span from Aug 2015 to Dec 2016 so they include this entire year - nice! The price just cannot be beat: originally $32, they are now on sale for $8 each with free shipping.
Kate Spade New York is a big name - these are designer planners! Each planner measures 7.75" x 5.5" and comes complete with monthly and weekly spreads, a contacts section, note pages, and laminated dividers. It is a fully-functional planner in a mini size. These are great for sticking in your purse or backpack to carry with you.
There is really no sense in having a planner if it isn't on your person at all times. While some women carry purses large enough to double as diaper bags, I tend to carry a medium-small purse that would not fit the larger planners comfortably. However, this planner would fit inside just peachy. All you need to decide is which planner you want to buy: personally I like the Novelty Couture design.
Reviews are a bit scattered on this planner. Many people give it a medium rating because part of the original description - a saying at the beginning of every month - is not actually in the planner. There have also been some complaints about it starting in August - they typical comment is "who starts a planner in August??" One reviewer took time to point out her favourite bits:
I love that the weekly sections have lines and not blank spaces and love the fact that the layout for each month starts with the whole month calendar followed by a weekly section as opposed to the month calendars being divided into another whole section.
So if you do not mind a few wasted months that have already passed and you like the idea of 75% off a designer planner, then pick up this deal at Chapters Indigo. Today is the last day for free shipping!
(Expiry: unknown)