73% Off Pirate Boat Play House Was $200 | Now $55 & Free Shipping @ London Drugs *HOT*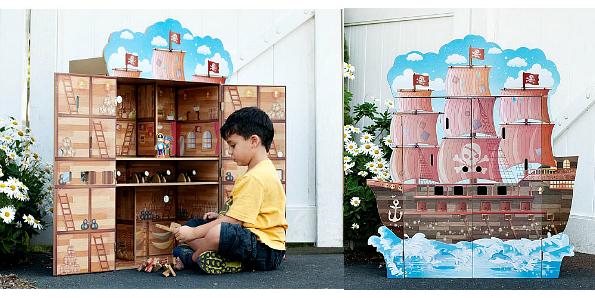 *Bump! This product is back in stock at this incredibly low price!**
We have found a ship-shape deal for you my bargain-hunting Moosers! This Pirate Boat Play House by Teamson is a huge house-ship just ready to spark your child's imagination. Originally $199.99, this boat play house is now on sale for $54.99. Receive free shipping when you sign up to London Drugs' newsletter (tested by Brooke and currently working!).
This play set is currently in stock and ready to be gifted to your little one this Christmas. The large wooden boat house features two levels of play and two large wooden doors that open up to reveal the inside cabin. While this may look like a house... the ship house has sales billowing in the wind to sale your child off to never-never land.
This set comes complete with catapults and cannons. There are wooden figures carved into pirates that are doing pirate like things such as mopping the deck and looking untrustworthy. There looks to be nine figures in total including a few pirate animals like a monkey and a parrot.
This set is INCREDIBLE for the price. The entire thing is made of wood and good quality paints. It has a dreamy, fantasy quality to it and the ship house actually looks like a real pirate ship when the doors are closed. The attention to detail on this piece is phenomenal I must say and it is big enough for play with other toys as well.
You could always buy this pirate ship for your child to combine with their Jake and the Never Land Pirates toys. This ship is larger than anything you will find actually branded Jake and the Never Land Pirates and it is truly the perfect ship for any aspiring pirate.
Let us quickly talk price... as the price on London Drugs is massively lower than anywhere else I could find this toy. The same set retailed for $249.99 USD @ ToysRUs.com and $139.99 USD @ Amazon.com. In Canada, this toy retails for over $330 when sold by marketplace sellers on Amazon Canada. I could not find the set anywhere else in Canada but a solid wooden play house of this size with figures included is certainly worth the original price. At $55, it is a steal!
When you subscribe to London Drugs' newsletter, you will receive a unique coupon code for free shipping. Use it on this play house to get it shipped for free.
(Expiry: Unknown)