(73% Off) Dynamite Lightweight Eternity Scarf only $5.60 & Free Shipping! (EXPIRED)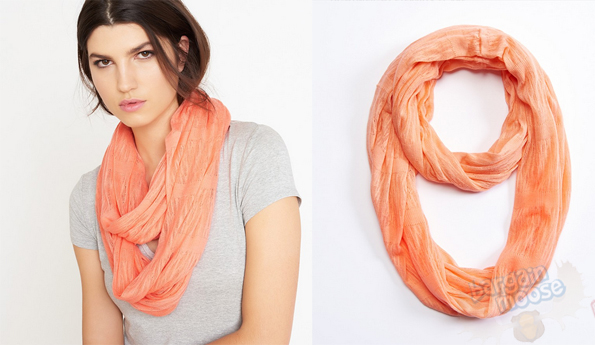 I heard that both Dynamite and Garage were offering free shipping with no minimum spend this weekend. And being the deal-hunter that I am, I instantly went and explored their sale sections to see what I could see. One item that stood out as a great deal was this Lightweight Eternity Scarf from Dynamite which was originally priced at $19.95. It's in the sale for $8, but there's also an extra 30% off scarves when you add them to your shopping cart. So right now, you can grab it for only $5.40 with free Canadian shipping.
The Lightweight Eternity Scarf only comes in the colour I've pictured above (orange… well desert flower), it's a shame it's not available in more choices. However, if you like this colour and it suits you, then it's a bargain price for this little fashion accessory. You could pair it up with many sorts of plain tees or sweaters. Dynamite suggests a modal tee, a faux leather biker jacket and some dark wash skinny jeans!
I love scarves like this, they're great for the spring and summer. They're very handy to have when the evenings start to get a little chillier and you can keep your neck warm.
While you're on the Dynamite site, you might want to have a browse round the sale section here to see if there's anything else you want to grab, as you're getting free shipping anyway. Some more examples of accessories you might like:
Of that last one in the list above, it says there are only 6 left, so if you are interested, grab it fast.
(Free shipping expires: 9th June 2015)