Accessory + Lipgloss, Primer AND Shadow from $12 + Free Shipping on ALL Orders with Code @ Urban Decay!!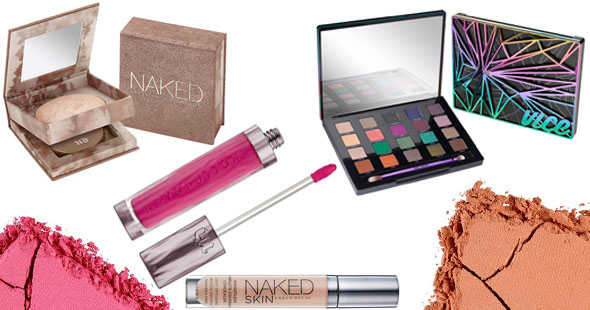 Ooh, what a perfect time to indulge yourself in some prestige makeup, just in time for Valentine's Day! In honour of the Lunar New Year, Urban Decay has released a coupon code valid for three free samples and free shipping with no minimum order! Their usual free shipping threshold is $50 so this is a great opportunity to grab some smaller items you may need.
Coupon code: LUNAR
Discount: free shipping and 3 samples with every order
Expiry: 14 February 2016
Maybe you've been dying for some new tools but didn't want to spring for the shipping costs. This very highly-rated Grindhouse Double Barrel Sharpener is just $12 or there's a great, very useful Double-Ended Brush for making eye shadow application extra quick and easy for $24. Each is far below the usual minimum spend but check out my cart: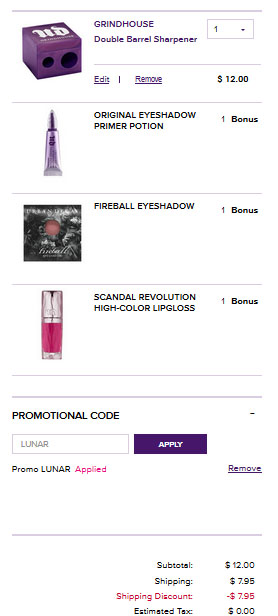 How's that for a steal?!
Pallettes are another great way to save time and effort when doing your makeup as everything is all in one place. This awesome Vice4 Eyeshadow Pallette is full of beautiful, bold colours but balanced by just enough neutrals to save you from reaching for another shadow. It's also very highly-rated with 137 reviews and a 4.8 star average. Originally $70, it's now only $45!
I'll leave you to head over to Urban Decay and go nuts! Stock up on your favourites or try something new because shipping is free (don't forget promotional code LUNAR at checkout)! I can't wait to try the sample of the and the lipgloss, for that matter. There are few things better than free samples when shopping online... except maybe free shipping!
(Expires: 14th February 2016)