True Cuddles Canada: Baby & Child Neckties Only $5.40 + $1 Shipping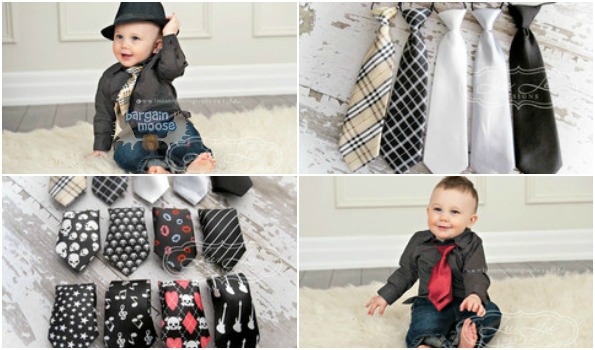 True Cuddles Canada has a cute deal on today with baby and child neckties on for only $5.40, regularly $9, and you'll get $1 shipping per piece (or a $6 flat rate if you buy more than six).
Seriously, there is nothing cuter than a diapered baby wearing a tie. I know because I've put my baby in a tie, more than one time. I've recently seen photo shoots on Pinterest with the baby wearing a diaper, a tie and with lipstick kisses all over him. Imagine this type of photo shoot as a present for Mom or Grandma.
The ties are classic satin, with fully adjustable neck strap with clip closure. The baby ones measure 7.5" long, which is perfect for young ones, but can also be tucked under vests or sweaters for older kids. Here are the baby patterns:
Red/Blue Stripe
Beige Burberry
Navy Dot
Raspberry Dot
Black/White Stripe
Multi-Coloured Stripe
Pink Plaid
The child ties have a stretchy strap and measure 11" long. Here are the child patterns:
Solid White
Solid Grey
Solid Black
Guitars
Large Skulls
Music Notes
(Expiry: Unknown)