Baby Organic Joy Canada: Exclusive $3 Off $30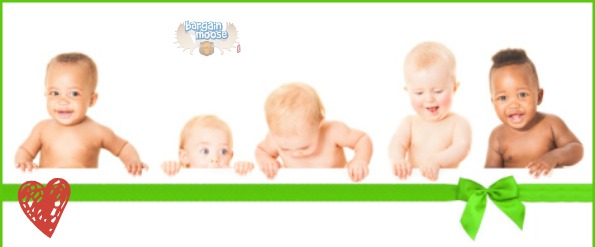 Bargainmoose has an exclusive coupon for Baby Organic Joy Canada, with $3 off a spend of $30, and when you spend over $25, you also get free shipping!
Click here to shop @ Baby Organic Joy Canada
Coupon Code: BARGAIN2013
Discount: $3 Off Your Purchase of $30+
Expiry: 31st March 2013
Baby Organic Joy is a wonderful Canadian store that sells items that are certified organic or made with organic materials for children. I am all about organic items for kids because they are so susceptible to any chemical influences in those early years.
I was a cloth diaperer. Cloth diapers save money and are better for the environment and not to mention that they look really adorable! These AppleCheeks Wild Child Cloth Diapers are the cutest! This style is a limited edition and has cute elephants in great contrasting colours. AppleCheeks are known for their envelope design, which is similar to a pocket diaper, where you stuff, but in this case there is no unstuffing. The inserts are bamboo and the outer layer is breathable and waterproof with a soft micro fleece inner layer. Another great thing about cloth is that it really limits diaper rash. Get one diaper with insert for $29.99. Add an extra insert for $9.25 and get the diaper and two inserts for $36.94, with our exclusive discount.
If you are going to be using bottles, BPA-free is the only way to go. Born Free were the ones that I bought when the whole BPA scandal first came out and I loved them. They didn't leak, they were easy to clean and you could buy different nipples for different stages. Get two 5 oz. bottles for $19.99 and two 9 oz. bottles for another $19.99 and get four bottles for only $36.98 with our exclusive discount.
Looking in the sale section, I see that Earth Mama Angel Baby items are on sale and I love that stuff! It is made with all organic ingredients, no artificial preservatives, dyes or fragrances and is cruelty-free and vegan. When your child is first born you are inundated with products for baby and honestly, you don't want to use those chemical-laden products when there are great natural ones out there. I ended up throwing out all of the ones I got. Check out the Angel Baby Oil, great for infant massage, made from grapeseed oil, chamomile and calendula, with no scent. Only $11.99, regularly $14.99. The Bottom Balm is fantastic for protecting against diaper rash and is even safe with cloth diapers. It is great for things like bug bites, scrapes, burns or chicken pox as well. This award winning balm is light with little residue. Only $12.99, regularly $15.99. And of course you have to wash baby, so the Baby Wash and Shampoo is amazing. It is tear-free with light scents of vanilla and sweet orange oils. Only $9.25, regularly $11.49. Get all three items for only $31.23 with our exclusive discount. This would make a great gift for a new mom.
Shipping is free on orders over $25.
Check out the other great Bargainmoose coupon codes for Baby Organic Joy in the coupon forum.