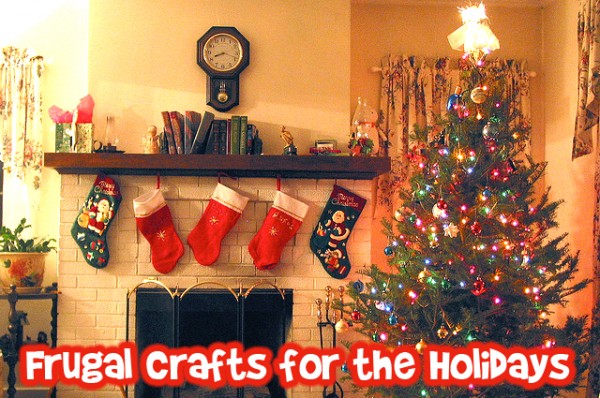 You may think November is too soon to start thinking about decorating your home for the holidays, but in the blink of an eye it will be December 24th and you'll thank yourself later for getting everything done well in advance. Plus, throwing a craft night might be a fun and frugal activity to do with a group of friends this winter. No matter if you are a mini-Martha Stewart or complete craft novice, these 5 do-it-yourself holiday decorations are easy to make, will look great, and won't break the bank.
Winter Wonderland Snowglobe
I've always had a soft spot for snowglobes, to the point where I even started my very own collection. But now I can just make them myself using the tips and tricks from Honest to Nod's blog. You may need to go to Michael's or another craft store to get the miniature trees, and you may need to make some tomato sauce in order to get an empty jar, but after that all you need to do is bleach a mini-tree, glue it to the the lid, sprinkle some glitter or fake snow inside the jar and fill it with water, et voila! Make sure the lid is fastened on securely. No one wants winter wonderland spilt all over the carpet.

Glowing Snowmen
If you've got a few empty milk jugs, some construction paper or paint, some extra white Christmas lights or flameless candles, you can easily make yourself some glowing snowmen to put on your doorstep or windowsill as a fun holiday decoration. Ash from Stuff by Ash says you can even recycle these for Halloween and turn them into spooky glowing ghosts too!

Paperclip Angel Ornament
This is by far the easiest way to decorate your Christmas tree when on a tight budget, as found on Crafty Journal's website. All you need is some ribbon, pearls, and butterfly paperclips, and in eight simple steps you've got yourself some angel ornaments. If you want your angels to have a bit more sparkle, paint the paperclips in gold or silver glitter paint so they shimmer against the Christmas tree lights.

Christmas Light Bulb Wreath
Do you have a pile of old Christmas light bulbs that don't light up anymore? C. Dianne Zweig suggests you turn them into a wreath that guaranteed none of your neighbours will have hanging on their doors. Just get a wire clothes hanger and bend it in the shape of a circle, then hot glue all of the bulbs around it. To give it an extra bit of umpf, glue some tinsel on the inside of the wreath and glue a few old tree ornaments on as well.

Sweater Stockings
Last but not least, the sweater stocking is a great way to turn something old into something new this holiday season. Kelly over at The Complete Guide to Imperfect Homemaking gives you step-by-step instructions on how to make these unique looking stockings, and might I add this is a great way to upcycle any sweaters you've been hanging onto from all of those past ugly christmas sweater parties you've attended over the years.

Bargainmoosers, what are your favourite crafts to make for the holidays?
(Image credit: scottfeldstein)