Every Free Home Depot Kids Workshop in 2018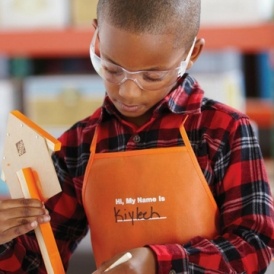 The Home Depot Kids Workshops are building classes that teach kids hands-on construction skills – and they're absolutely free.
Every month, Home Depot Canada holds a new workshop just for kids. They'll learn how to make a different project each time, and they can even take their creations home.
These workshops happen at Home Depot stores across the country, and they're almost always on a Saturday. They really are a great weekend activity, especially since the whole family can go, and you don't need to pay for anything!
We decided to break down everything you need to know about the Home Depot Kids Workshops, including how to register and the kinds of projects your kids might work on when they attend.
How to sign up for a Home Depot Workshop
This part is actually pretty simple. When you head to the Home Depot Kids Workshop section of their website, check the workshop location in the righthand corner. If it's set to your local store, you're all set! If it's not, change the location to the one you want.
Once that's settled, just scroll down to see the next available workshop and hit the "register" button. It will prompt you to enter your contact information (remember to submit yours and not your child's) and note how many children are coming. That's it!
It's worth noting that these workshops are intended for kids aged five to 12, and activities might not be appropriate for younger children – so please only sign up kids within this age range.
What happens at Home Depot Kids Workshops
Once you sign up for a workshop, just show up at the location you selected and get started! Home Depot employees will guide your kids through the day's activity for two hours (and you can help, if you want). Adults are expected to stay for the duration of the workshop.
Afterward, your child will get to take home their completed project, as well as a free achievement pin and certificate to congratulate them on a job well done.
What's up next: the November Kids Workshops

With the change of seasons and the cooler weather, you might be looking for a way to keep the kids busy indoors. So what about the next Home Depot Kids Workshop?! This time around, there are actually TWO projects your kids can take part in throughout this month:
When: Saturday, Nov. 10, 2018
Project: Build a Helicopter
On Saturday, Nov. 10 (from 10 AM to 12 PM), kids are invited to learn basic building skills and make their very own helicopters! Just FYI, this workshop is likely suited for older kids.
When: Build a Gingerbread Man Ornament
Project: Saturday, Nov. 24, 2018
This one is all about festive fun for the entire family. No matter when you decorate your Christmas tree, this workshop will help your children make ornaments to hang for years to come.
Home Depot Kids Workshop Schedule
Home Depot Kids Workshops happen once a month (usually on the second Saturday of the month), and kids can take part in a new building activity or construction project each time. Here are all the workshops they've hosted so far in 2018:
January 2018 – Wooden Clock Calendar
February 2018 – Valentine Bean Bag Toss
March 2018 – Construct a Periscope
April 2018 – Wooden Birdhouse
May 2018 – Windmill Planter
June 2018 – Fishing Game
July 2018 – Another Fishing Game
August 2018 – Truck
September 2018 – Field Goal Game
October 2018 – Build a Fire Boat
Home Depot Do-It-Yourself Workshops
The Home Depot holds workshops for adults, too! Their Do-It-Yourself Workshops cover the skills you need to kick off home projects, gain maintenance skills and take renovations into your own hands. Experts will help you out along the way, and you can register online, just like you would for the kids' building classes. These workshops usually last for an hour and are held at different times throughout the day (so there are sometimes morning, afternoon and evening sessions).
If you like this, you may like these...