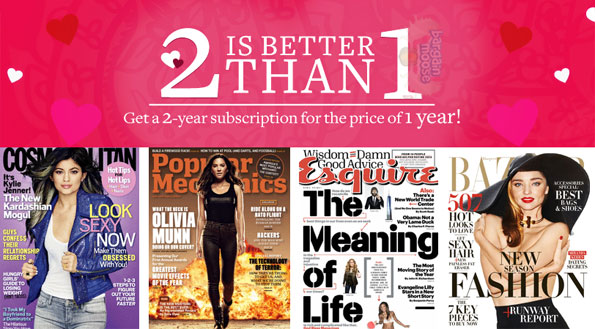 Here's a Valentine's Day gift idea that keep on giving: get a 2-year subscription to select magazines at Zinio for the price of 1 year!
With a total of 78 different magazines to choose from, here are just some of the ones that stood out to me:
Cosmopolitan
Harper's Bazaar
Food Network Magazine
Macworld
O: The Oprah Magazine
Good Housekeeping
Elle
Photography Week
Women's Health
Cooking Light
Men's Health
Parenting
There are also a couple of travel, geeky, commercial, home and other magazines that I would say are more niche-specific. For instance, Scootering is in there, covering all things related to scooters but this one definitely wouldn't apply to everyone.
Prices vary per magazine but to give you an idea, Cosmopolitan is $22.92 for a two-year subscription with 26 issues, which comes down to just $0.88 per issue. These are digital copies, of course, but considering a print edition of this popular magazine typically runs for close to $6, then paying less a dollar is definitely a steal of a deal.
If you are unfamiliar with how to read the magazines, it's super easy. You can either browse the magazine from an iOS or Android device (this includes both smart phones and tablets) or you can use the desktop reader to view it from the comfort of your desktop or laptop.
This is definitely a great Valentine's Day gift idea, especially since the subscription will be good for two years and your loved one won't have to worry about resubscribing for a while. Plus, there are plenty of diverse magazines to choose from to cater to most interests.
Another magazine that I didn't mention above but that could be an interesting choice is Geek. It covers a wide array of trending topics pertaining to lifestyle, film, music, comic books and more. To give you an idea, the current May-June 2015 cover is that of Guardians of the Galaxy. It's priced at $16.29 for 12 issues.
There is absolutely no mention as to when this promotion might expire, so if I were you, I wouldn't wait to take advantage of it if there is a magazine that you particularly want to subscribe to.
(Expiry: Unknown)