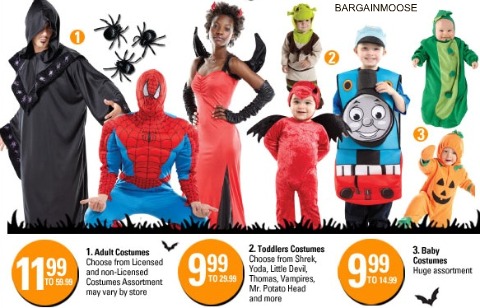 This deal is for those of you in the posetion of an HBC Card or an HBC Credit Card. If you don't have one by now, get one! Zellers is offering a free $10 savings card on any purchase of $40 or more between October 22 - 28, 2010. This of course is prime time to invest a little $$ in your Halloween costume and get some money back.
On the topic of Halloween, Zellers Canada is also offering an assortment of outdoor Halloween Decor at 1/2 price. Things like hanging vampires, skeletons and novelty lights. All 1/2 price.
Zellers is also a good place to get a costume on a budget, and so I included the above banner to help get you into the Halloween spirit.
The savings card will be valid on your next purchase between October 29 and November 4th. The email didn't say anything about a minimum purchase needed so lets cross fingers and hope there isn't one.