Yves Rocher is jumping on the pre-holiday band wagon and offering 50% off site-wide* with free gifts! For your first free gift they have added in the choice of a crystal watch & ring! You can see the set in this post.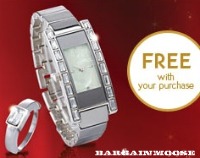 Shipping is free on orders over $30.
You have a choice of either the watch and ring combo or two other products, plus you will get a package of free gift bags. On orders over $40 you will get a free silk shawl.
* Excludes everyday low priced items like Beautiful Buy products, Culture Bio, some gifts sets and some new items.