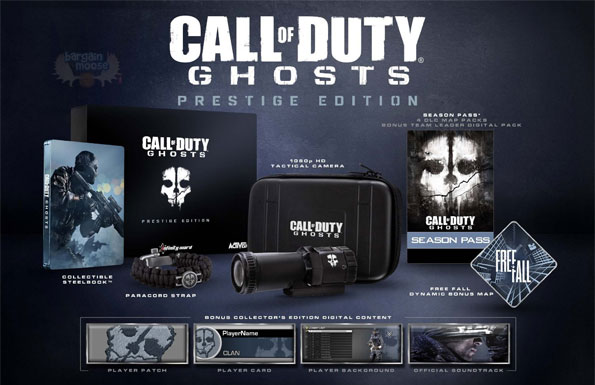 Coincidentally with last week's release of Call of Duty: Advanced Warfare, both Best Buy and Future Shop now have Call of Duty: Ghosts Prestige Edition on final clearance for just $29.99.
Originally released exactly one year ago, on November 5th 2013, Call of Duty: Ghosts Prestige Edition includes the popular game of course, but most notably, it also comes with a 1080p HD tactical camera. Just the camera alone is the main reason why a $30 final clearance price tag is a steal of a deal. Mountable, the camera is water-resistant, shockproof, has a 170-degree wide-angle lens and 3 attachments. With a 4GB memory card, it allows you to film, edit and share videos.
It also comes with a paracord strap (a bracelet), a collectible SteelBook with exclusive artwork, a copy of the game's soundtrack and a season pass, which includes all of the following:
4 DLC map packs
Team Leader digital content pack
Unique MP character with special gear & character background
On Amazon, the prestige edition is currently on sale for $81 (reg. $199.99). Since neither Best Buy's, nor Future Shop's websites have any reviews, here's one I found on Amazon:
A couple notes on the gameplay I have enjoyed to date. The movement is exquisitely fluid, this is so very polished. Having played back and forth between BF4 and Ghosts the last few weeks, COD took mantling and made it better. The knee slide is just icing. There are notable differences in weapon behavior between this and the previous versions. No longer is the SMB the ultimate weapon. And snipers cannot quick scope the way they used to. That doesn't mean a truly good sniper won't take you out, but it means that the glitch that made quick scoping bread and butter is gone.
The PS3 versions of COD Ghosts Prestige Edition are already sold out online at both Best Buy and Future Shop but you could try reserving it at your nearest store for same day pick-up.
Since both Best Buy and Future Shop ship orders over $25 for free, you're also sure to get free shipping on it.
(Expiry: Unknown)