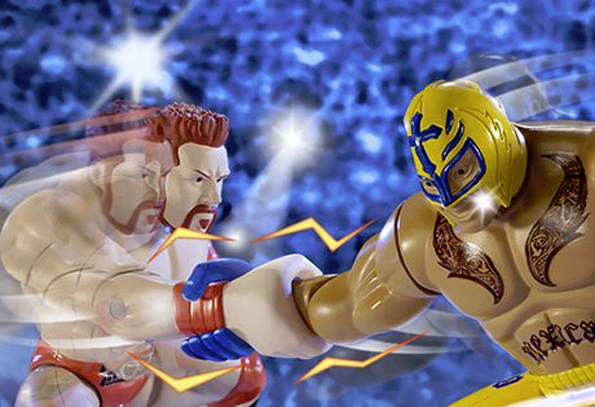 *** BUMP - now back at an even lower price from Walmart.ca today! ***
I grew up with two brothers who were obsessed with WWE and wrestling. I couldn't tell you how annoying it was to be wrestled to the floor constantly or to hear them wrestling all the time. I wish they had some sort of WWE playset back then. Right now, Walmart Canada has a great deal online on the WWE Power Slammers Wrecking Brawl Playset in their SUPER-MASSIVE clearance sale. Instead of paying the regular price which was $40, you will pay just $11!

The WWE Power Slammers Wrecking Brawl Playset for just $11 at Walmart.ca is sure to occupy any little boy between the ages of 5 and 10. This playset includes the wrestling ring, super-structure, movable match start module, ladder, Money in the Bank briefcase and a Power Slammer figure. Unfortunately you will need to purchase another Power Slammer figure or wrestler to really make it a wrestling match.
I wanted to make sure that this was the absolute lowest price you could find on this toy, so I took a look at what other retailers are selling this WWE Power Slammers Wrecking Brawl Playset for. This playset was $50 but is now on sale for $24 @ Amazon.ca. Even at the price of $24 at Amazon, stock is already low and you won't get free shipping either (unless you spend $25). You can also see this WWE playset for $15 @ London Drugs - but it is not actaully available online to order.
There are a few excellent reviews on the Walmart website for this product. So far it looks like this toy is a great way to contain the excitement of wrestling. Teach your boys to wrestle with the playset instead of each other to save things from breaking within the house. I know it is hard to find things to occupy the children during these cold, winter months.
You could also get free shipping if you spend $50 or more at Walmart Canada online, so add something else to your cart to benefit from that. There are so many deals on the clearance items that it makes sense to add some more items for Christmasrather than pay the shipping fees. If you can't find anything else to add to your Walmart shopping cart, you can always opt for free in-store pickup at Canada Post or a Grab n Go locker.
Did any of you Moosers have to tolerate wrestling obsessed siblings?
(Expiry: Unknown)