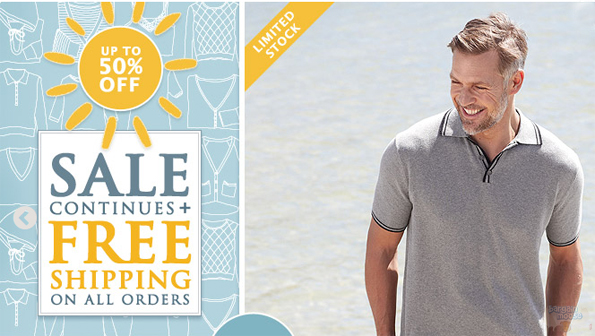 We've mentioned Woolovers.ca in some coupon roundups in the past but we've never before had a dedicated post about this company on Bargainmoose. Time for one now! For a couple of days only, Woolovers is offering totally free shipping on any order, with no minimum spend required.
Click here to use the Woolovers coupon code online now
CouponCode: FREEPOST
Discount: Free shipping
Expires: 31st July 2014
In case you haven't heard of Woolovers, they are a retailer of fine cashmere and wool knitwear. And there are a few areas on their site which you might want to hit up first:
Fine clothing such as cashmere and woolen items are generally not cheap, so it's great to take advantage of deals like this when you find them.
Let's see what we can see:
Men
Unisex V Neck Sweater for $36 or two for $68 – while it says unisex, this item was listed under the men's sale section. I really like this style of V-neck on a handsome man…
Striped Button Crew Neck Sweater was $42, now $36 each or two for $68 – I really like the red and blue stripey sweater, not so sure about the style of the buttons on the shoulder though.
Women
Silk & Cotton Sleeveless Vest was $32, now $22 (or two for $38) – if you're ordering two for $38, that works out at only $19 each. How about ordering two different colours – there are quite a few to choose from.
Stripe Sweater Dress was $40, now $28 (or two for $46) – I love the style of this sweater dress and I can easily see myself ordering two; one in blue and the other in green. That would work out at only $23 per dress.
Canadian Shipping
Now, this is where it gets a little bit confusing. Even though Woolovers has a dot CA domain, it doesn't mean they ship from within Canada. In fact, Woolovers actually ship from outside Canada so you may be subject to additional customs and duties which you might have to pay at your door. Hopefully you won't incur any extra fees but please keep that in mind when you are ordering.
What I would recommend – as it's free shipping with no minimum, if you want a few items, just place separate orders for each item. That way, you'll have less chance of being hit by customs if you are placing one bigger order. In the comments below, please let us know how it goes. Tell us what you think of your Woolovers experience please!
Coupons & Shipping
This Woolovers coupon code can be found here on our Woolovers coupon page. Any codes that we find for this store will be saved there, always check in before you finalise your online purchase. Saving on shipping is super. :) Additionally, there are many more stores which offer free shipping with no minimum – have a read of them here.