To get a great deal on a Christmas sweater you can order now with plenty of time for it to arrive before Christmas.
Amazon Marketplace seller 4 Guys Boutique has a cute Rudolph the red nosed reindeer sweater selling for $13.20 including shipping for the black one, or $12.80 for the red one, also including shipping. Shipping will take several weeks, since it ships from overseas. There are two sizes available in each size, a women's S-M and a women's M-L. The seller has other sweater designs available but these two are the lowest priced ones.

In the above links, you'll be directed to an Amazon webpage where you will need to click on available from 'these sellers' (see image below where I used a red box to show where to click) and you can then select the seller 4 Guys Boutique to see the pricing I mentioned above.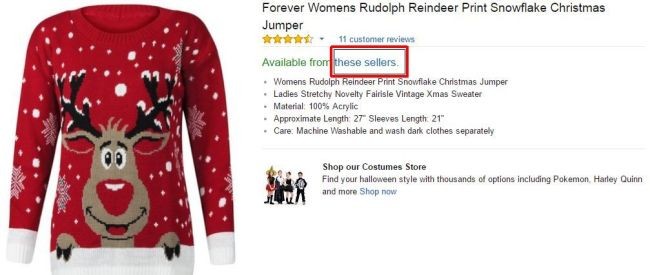 One reviewer states, "I bought this to have a Christmas "ugly" sweater, but I'm finding it's kind of adorable in that "I'm only going to wear it once, maybe twice a year" kind of way. It's pretty darn cute for an inexpensive novelty sweater and the quality is surprisingly good for the value."
It is versatile in that way. So which one do you think it is? Adorable, or Christmas ugly sweater? I love the red one, and can't wait for me Smashbox 3 palette cosmetic set to arrive since there's a gorgeous red shade that will blend with the red sweater.
Shipping is $5 and is included in the above mentioned total.