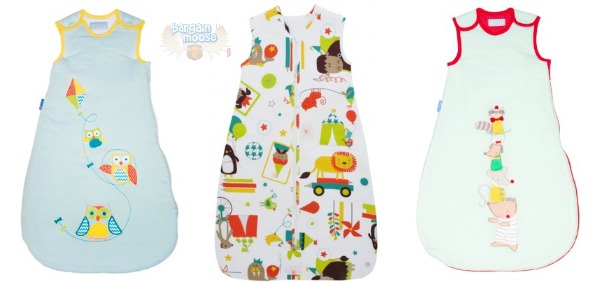 Well.ca has is offering up to 45% off Grobags from The Gro Company. You stick your little one in these popular little bags. Many different sizes are available.
Grobags are this adorable little baby sleeping bags. Think of a blanket combined with a jumper that your little one wears instead of a traditional blanket. Each grobag has a neck opening and armholes so it can be worn. The bottom is closed in to keep your baby warm. You can pop open the grobag easily - the shoulder straps unfasten.
These bags are usually quite expensive! I looked back at previous sales on them to find grobags for $45 and a few other small deals, but nothing that takes your average baby sleeping bag into the $20-$30 range.
This Grobag Baby Sleep Bag 2.5 Tog Anorak Trundling Tractors was $60.49 and is now $33. The bag is designed for infants - age zero to six months. This Grobag Baby Sleep Bag 3.5 Tog Fly A Kite features the most beautiful print you could imagine. It would be great for babies of either sex and it looks really pretty too. The bag is on sale for the same price as the tractor bag.
Do you have a budget under $30? There are still a few good options! The Grobag Travel Baby Sleep Bag 2.5 Tog (carnival print) is on sale from $49.99 down to $28. The travel grobags fit a five-point harness so your little one can be loaded into a pushchair or car seat while they nap. The Grobag Baby Sleep Bag 2.5 Tog  is also a very good price. Originally $49.99, this grobag is on sale for $28.
For older babies, the prices are competitive. I found two bags priced in the $30 range for children 6 months to 18 months. First, the Grobag Baby Sleep Bag 2.5 Tog Rascal Raccoon was $59.99 and is now $33. This is a regular sleep bag with a cute print. For travelling, pick up the Grobag Travel Baby Sleep Bag 2.5 Tog Up & Away that was $54.99 and is now $34. This one is compatible with the five-point harness. Between these two grobags, you would have a bag for nap time, bed time, and travel time. Last time I blogged a deal for Grobags, Anna said:
These are fantastic, I used a few with my little girl.
There are many other bag designs to choose from in this sale. All sale grobags are $28 or more, thus they will all qualify for free shipping. Well.ca has free shipping on a $25 $29 minimum.
(Expiry: Unknown)