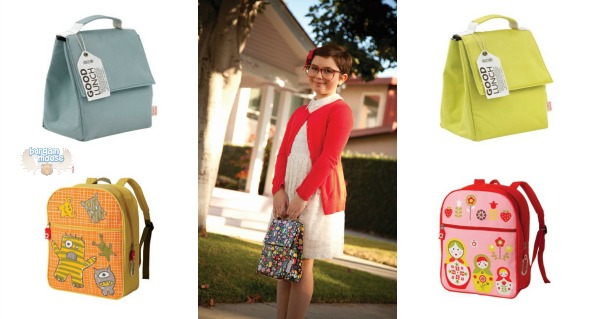 Well.ca has a sweet little sale on SugarBooger by O.r.e back packs and lunch sacks for kids. Enjoy fun graphics and great prices for your children!
There are three vibrant backpacks to choose from. Each pack originally cost $35.96 and is now on sale for $18. This Zippee Back Pack Dia de los Muertos (Day of the Dead) backpack mixes fun and the customary sugar skulls for this amazing celebration. The artwork is playful and the back pack is made of nylon canvas for durability. The padded and adjustable nylon shoulder straps will keep this backpack secure. All packs from O.r.e. meet Canadian safety standards for kids.
The Zippee Back Pack Matryoshka Dollis by far my favourite backpack. I love those classic Russian stacking dolls and even have a set of my own. This pack is about as adorable as you can possibly get with three dolls on the front as well as flowers and fruit. I want this in adult size!
The third backpack is Hungry Monsters by SugarBooger. This is a fun little pack with cartoon monsters just fierce enough for your young one to love it. The yellow oranges and greys make a nice colour combination. So far, this reviewer loves her son's pack:
I bought this backpack for my 6yo, he is in grade one but small in stature, so conventional backpacks seem huge on him. After 3 weeks at school, the backpack is holding up well, it is spacious enough to carry several standard duotangs/workbooks, so is ideal for this age and workload. Now to see if it is sturdy enough to last the year!
You can also have your choice of four lunch sacks to send with your kids to school. All the lunch sacks were $24.95 and are now just $12 each. I just adore this Classic Lunch Sack Hedgehog because the print is just full of the cute little spiky creatures. Did I ever mention that I have owned several hedgehogs before? They are one of my favourite pets and I really enjoy keeping them. This lunch bag just warms my heart.
You can also pick up a single colour lunch bag. These do not have patterns on them, but they are durable nylon canvas bags for your kids to take their lunch in. Choose from Lemony Lime, Blissful Blue, or Rusty Red.
Receive free shipping on orders of $25 or more at Well.ca.
(Expiry: unknown)