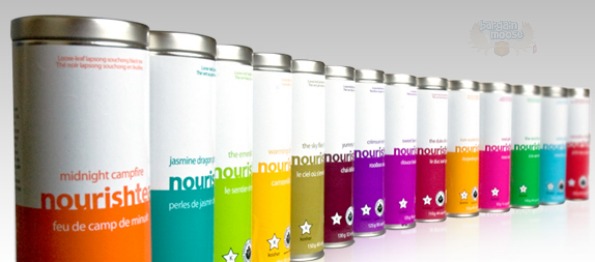 Well.ca is offering 50% off Nourishteas this week.
Summer is here and a nice pot of hot tea might not be first on your list of summer drinks. However, the beauty of tea is how versatile the little leaves are. You can make a pot hot and then cool it down, add a few ice cubes, and serve it as iced tea. You do not even need to brew the tea hot. Try brewing the tea cold, add some sugar if it is not sweet enough, some ice cubes, a slice of lemon, and put it all in your favourite pitcher. It is a great way to have a healthier drink on a hot summer day than ingesting store bought iced tea, lemonade, or soda pops.
I think this Nourishtea Sweet Berry Breeze Loose Leaf Tea is an excellent summer tea. The tea tastes of hibiscus, rose hip, black current, cranberries, and elderberries with just the perfect level of sweetness (without added sugar) and no caffeine. Originally $7.99, this lovely tin of tea is now on sale for $4 and will give you 54 cups of tea (135g). One reviewer commented:
Best Berry tea around. Better than any berry tea that I have tried at Teavana or David's Tea. Very rich berry flavor! Must try.
If you love a good jasmine tea, look no further than this Nourishtea Jasmine Dragon Phoenix Pearls Loose Leaf Tea. You get to watch the little tea purls unfurl themselves in the water to release the delicious taste and intoxicating aroma of this famous Chinese tea. The 100 gram tim will give you 40 cups of tea for only $4, originally $7.99. That works out to only 10 cents a cup of tea. One reviewer wrote:
Fantastic jasmine tea! Flavour is delicious, I use 1 tsp for 2 cups for a lighter flavour and 2 tsp for a more intense flavour.
All Nourishtea teas are on sale except for the Matcha tea. You have nine teas to choose from in total and with such great prices; you might just want to buy one of each. Well.ca offers free shipping on orders of $25 or more.
Be sure to check our coupon forum for any current Well.ca coupon codes you can use on your order. In addition, if you place an order of $60 or more today, you will receive a coupon code for 10% off your next order. Just a little promo I noticed they were having.
(Expiry: 6th July 2014)