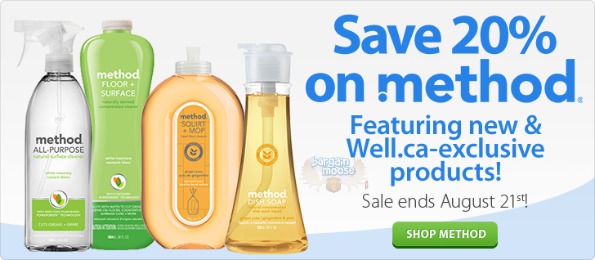 Well.ca is offering 20% off Method products. Method is known for their more eco-friendly products that are also human friendly.
I have never used Method products, but I know a lot of people have. If you have kids and are looking for something fun check out the Method Minnie Mouse Foaming Hand Washfor $3.99 (reg $4.99) and the Method Mickey Mouse Foaming Hand Wash for the same price. Mickey has 12 reviews for an average of nearly 5/5 stars! Here are some of the comments:
Love it! Love it!!! The soap is light and airy, making it easier for the kids to wash and rinse their hands cleans. Its also smells great, and the Mickey shape is just so cute and fun. Love the fact that we can just reuse the bottle and refill with the Method foaming soap. We'll be getting more of these for gifts for sure!
Love Love Love this product! i thought it would be a great thing for my kids since the LOVE mickey. I think i love it as much as them! love the scent :) doesnt leave my hands dry. I will be buying more :)
I am a kid at heart too so products like this interest me.
Expiry: 21st, August 2012